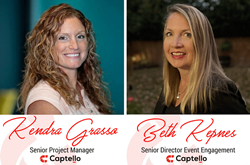 "We are very excited to start working with Beth and Kendra, exchanging ideas, knowledge and experience to provide the industry with creative new solutions that ultimately contribute to event success."
DALLAS (PRWEB) February 15, 2023
Captello facilitates new growth with the arrival of two event professionals that bring over 40 years of experience in the events industry to the organization.
In the wake of 64% year over year growth, Captello, the event industry's most comprehensive Event Software Platform, is investing in experienced new team members to support expansion.
"We are excited to announce our two newest captello team members, Beth Kepnes and Kendra Grasso, who bring with them decades of experience in the events industry. They are both eager to add value and help grow the organization by implementing new strategies gained from 40 combined years of experience in the events industry. Our user-base of 10,000+ and growing will also benefit from an injection of industry knowledge and insight." Ryan Schefke, CEO | Captello
Beth Kepnes - Senior Director of Event Engagement
Beth brings over 25 years of event industry management and sales experience as an organizer, a general service contractor, and technology supplier. Beth is highly attuned to finding ways to add strategic value for clients, by listening and carefully understanding goals and objectives. Utilizing Captello's unique Premium and Universal Lead Capture and Engagement platform, Beth is able to craft solutions for exhibitors and organizers that drive increased value from events, increase the number of qualified leads captured, drive more traffic to exhibits and events, and gather truly unique data from user-customizable lead capture forms.
"Captello has such a 'next-level value proposition' for increasing leads and improving response time, that it should be an integral part of the tech stack. It's easy to get behind a company that is revolutionizing the way leads are collected and nurtured. It's a solution that I could have significantly benefited from as an exhibitor. I can't imagine exhibiting without Captello now, so it's easy for people to see the value and share the Captello love!" - Beth Kepnes, Sr. Director of Event Engagement | Captello
Kendra Grasso - Senior Project Manager
Strengthening the team on the support side, Kendra brings over 15 years of event technology and project management experience, and is actively involved in the industry.
"I am so excited about the future of Captello and ready to bring new and engaging solutions to the events industry! Captello is unlike any other event technology I have seen, giving our customers endless lead generation and revenue opportunities, as well as robust event management capabilities." - Kendra Grasso, Sr. Project Manager | Captello
Captello's unique team culture promotes deep listening skills, a style which enables industry professionals in the field to speak directly to Captello with their needs and wishes. The organization spares no expense to make every wish come true so that event professionals have all the tools necessary for event success, from the organizer to the exhibitor and participants who attend the shows.
"We are very excited to start working with Beth and Kendra, exchanging ideas, knowledge and experience to provide the industry with creative new solutions that ultimately contribute to event success." - Brad Froese - Director of Marketing | Captello
Captello invests in employee development with incentive programs for personal and professional growth, always keeping an eye out for new valued team members with a passion for events, and experience in the events industry.
Captello is a comprehensive event software platform providing event management, registration and ticketing solutions, premium lead capture, event engagement solutions, event networking activations, event marketing, and sales enablement solutions all in one intuitive platform - with OneFocus, Captello's free event CRM solution included.