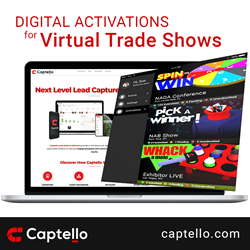 "We want exhibitors to know that, whatever the medium or platform they choose to use, Captello has the solution. We have developed a seamless experience that provides full control of the lead management process - from the trade show floor to the virtual, browser based experience."
DALLAS (PRWEB) April 07, 2020
Considering the challenges of trade show exhibitors and organizers worldwide amidst current health concerns, Captello is working to meet the needs of those who are either temporarily shifting to, or additionally integrating with online methods of event participation, such as virtual trade shows.
New, digital activations are now available from Captello for use on any browser based platform. Add instant gamification to your virtual trade show experience and gain the competitive advantage of Captello's full suite of lead management software solutions.
Captello injects lead capture data into a powerful workflow, which automatically qualifies leads according to user-defined criteria. Leads are then assigned to corresponding representatives for personalized follow-up. Enriched data then flows, in real-time, to your CRM and marketing automation platforms. Flexible, automated workflows initiate prospect follow-up with personalized communications in the form of SMS messages, emails, postcards, handwritten letters and more.
Captello provides further value with real-time analytics & reporting, and an event ROI calculator.
"We want exhibitors to know that, whatever the medium or platform they choose to use, Captello has the solution. We have developed a seamless experience that provides full control of the lead management process - from the trade show floor to the virtual, browser based experience." - Emad Atya, Director of Engineering - Captello
Participants can now sign in to play games on any web page using customizable forms! Choose from a library of over twenty easily customizable games, which can be activated and launched within minutes, complete with company branding, color schemes, and more. Users are able to set up details such as branding, prizes, prize quantity, winning odds, and leaderboard settings using Captello's web application. Here are some of the benefits:

Bring digital activations to your virtual trade show
Introduce an element of fun
Invite virtual attendees using a simple hyperlink
Play games using only a browser, no mobile device required
Capture more leads with campaigns and virtual events
Create a new channel for sending prizes
Automatically send leads into your CRM or marketing automation platform
Learn more about Captello: https://captello.com
Download Captello's Activations Brochure: https://hello.captello.com/content/Captello-Activations-Brochure.pdf