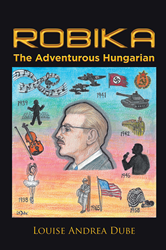 ST. PETERSBURG, Fla. (PRWEB) November 19, 2019
Author Louise Andrea Dube recently released her debut novel, "ROBIKA The Adventurous Hungarian." A fictionalized biography based on her friend's captivating life story, the book follows a young man as he comes of age in Hungary during World War II and survives the punitive post-war environment through cunning means.
Robika is a promising opera star whose aspirations, and burgeoning love affair with a ballerina, are thwarted with the German occupation of Budapest. After surviving the draft and returning home, he finds himself dissatisfied with the post-war Soviet control of his country and joins forces with the American embassy as an undercover spy.
Dube, an accomplished fiction author and fine artist, was moved by the various adventures Robika recounted to her and wrote the book as a tribute to him. "When I met Robika, I knew I had to write a book about him. His life was so interesting," said Dube. "I also wanted to provide a unique perspective on World War II and how it impacted smaller European countries like Hungary."
A story of a man whose life was permanently reshaped by war and political conflict, "ROBIKA The Adventurous Hungarian" is captivating read that exemplifies the unbelievable lengths he had to go to for survival.
"ROBIKA The Adventurous Hungarian"
By Louise Andrea Dube
ISBN: 9781984574053 (softcover); 9781984574060 (hardcover); 9781984574046 (electronic)
Available from Amazon, Barnes & Noble and the Xlibris Online Bookstore
About the author
Louise Andrea Dube is an author and fine artist who has spent decades in various creative endeavors. This is her first published book. She resides in South Pasadena, Florida. To learn more, please visit louiseandreadube.com.
###
Review Copies & Interview Requests:
LAVIDGE – Phoenix
Leslie Standridge
480-998-2600 x 586
lstandridge(at)lavidge(dot)com