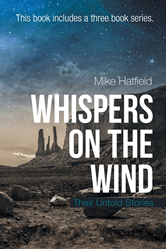 "Great effort was made to set down as much truth as possible through letters, journals and interviews. Those truths have been revealed as vividly as possible not to shock the reader but to show the undiluted realities of life that existed in those times and still do." - Author Mike Hatfield
RIO RANCHO, N.M. (PRWEB) June 03, 2019
Author Mike Hatfield personally understood the old saying, "truth is stranger than fiction" after a three year long journey of digging up the past through places such as genealogy sites, journals, letters, courthouses and ship manifests to conduct research for his enthralling new novel "Whispers on the Wind – Their Untold Stories." A three-book series in one, the fictional novel based on truth, chronicles the lives and events of Hatfield's relatives, family, friends and acquaintances.
An entertaining novel filled with love, loss, betrayal, mystery and the horrors of the supernatural side of the world, "Whispers on the Wind" follows five families from 1873 into the twentieth century. Readers will join characters such as Zeke Martin as he journeys to the West to leave behind the troubles of his family's vengeful feud ongoing since the Civil War and encounters a group of Native Americans, Deputy Marshal Ethan Bullock who is on a quest for a murdering madman, narcissistic Catherine Bullock who allows deadly supernatural secrets to enslave her selfish soul as well as other intriguing characters on their journey through time and mystery.
"Great effort was made to set down as much truth as possible through letters, journals and interviews," said Hatfield. "Those truths have been revealed as vividly as possible not to shock the reader but to show the undiluted realities of life that existed in those times and still do."
Readers will be on the edge of their seats as they read through the fictionalized accounts of the real people and events featured in "Whispers on the Wind." They will also be reminded of the importance of knowing both the good and the bad of their heritage, just as true love exists in the world so does true evil, and the danger of ignoring the supernatural side of the world. To view the book trailer, please click here.
"Whispers on the Wind – Their Untold Stories"
By Mike Hatfield
ISBN: 978-1-7960-2122-6 (hc); 978-1-7960-2123-3 (sc); 978-1-7960-2139-4 (e)
Available through Amazon, Barnes & Noble and Xlibris
About the author
Born in southern Indiana, author Mike Hatfield and his family moved away to Chicago where he grew up and attended The Chicago Art Institute to become a commercial artist. In his late teens, his artistic interests turned from oils and canvas to the artistry of training horses. It was not long before the world of the great American West lured him away. For thirty years he worked throughout most of the western and midwestern states, Canada, and Mexico as a cowboy, horse trainer, teamster and ranch manager. Along his trail through the west, he wrote many short stories, became an actor on stage, in film and television along such great actors as Kevin Cline and Tommy Lee Jones and is a member of SAG-AFTRA. Hatfield is an avid enthusiast of the Australian Shepard dog breed and over the years has trained many to herd cattle and sheep. He makes his home in Rio Rancho, New Mexico. To learn more please visit Hatfield on Facebook.
For Review Copies & Interview Requests Contact:
LAVIDGE – Phoenix
Lauren Dickerson
ldickerson@lavidge.com, 480-306-7117