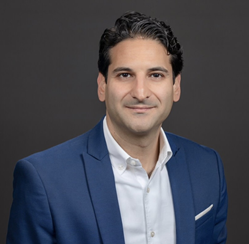 In collaboration with the talented marketing team at Capture, I look forward to further advancing the company's mission to help higher education institutions grow their student enrollment and alumni engagement. - Farzad Novin, Capture's new VP of Marketing
LOUISVILLE, Ky. (PRWEB) March 25, 2021
Capture Higher Ed has hired ed tech veteran Farzad Novin as the company's new vice president of marketing. With more than 15 years of experience leading top-rated marketing teams and operations in the education space, Novin will guide Capture's marketing efforts as the company continues to fundamentally shift how universities identify, convert and enroll prospective students.
Before joining Capture, Novin was a marketing leader at multiple education-focused companies and organizations including The College Board, Regent Education and, most recently, QS (Quacquarelli Symonds).
"We are fortunate to have someone of Farzad's talent, experience and high energy leading Capture's ambitious marketing efforts," says Capture CEO Leonard Napolitano. "In his previous roles, Farzad's approach contributed to the rapid growth of each company in the education vertical. This experience, his ability to reimagine outreach and his desire to be better every day are just some of the many reasons why he was the unanimous selection of the hiring committee.
"Farzad's track record, industry knowledge and passion for higher education make him the perfect fit for Capture moving forward."
Novin will lead Capture's marketing team and play a key role companywide as a member of the leadership team.
"I'm excited and honored to join Capture's marketing and leadership teams. In the early stages of the interview process, it became clear that the team at Capture is truly poised to grow the market presence of its unique solution and service offerings," says Farzad Novin, Capture's new VP of Marketing. "In collaboration with the talented marketing team at Capture, I look forward to further advancing the company's mission to help higher education institutions grow their student enrollment and alumni engagement."
Available for Comment
Leonard Napolitano, Capture CEO
Farzad Novin, Capture VP of Marketing
About Capture
Headquartered in Louisville, Ky., Capture is a leading innovator of marketing platforms and solutions for higher education recruitment and enrollment management. Capture's Behavioral Intelligence Platform (BIP) offers solutions throughout a prospective student's college decision journey. With industry-leading marketing automation, managed solutions and AI-powered predictive modeling built specifically for higher education, Capture gives institutions the control needed to effectively target interested students in relevant ways that increase engagement, drive admissions and improve student retention. Founded in 2011, Capture has served hundreds of higher education institutions and programs across the country while being recognized by Inc. 5000 as a fastest-growing U.S. company.