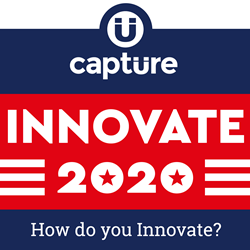 During Capture's Innovate client summits, we will share in each other's expertise, learn and grow, so that all of us who care about the future of higher education can be successful at solving the challenges of the present and future. - Capture President Leonard Napolitano
LOUISVILLE, Ky (PRWEB) January 14, 2020
Capture is hosting enrollment directors, admissions counselors, university marketers and other higher ed leaders from 10 states and over 15 institutions for Innovate 2020. The one-day, regional client summit on Thursday, Jan. 16, at the Omni Hotel in downtown Louisville will include sessions and workshops covering an array of higher ed topics including modern recruitment, the latest in enrollment technology, Capture's Behavioral Intelligence Platform and much more.
Capture will host two additional Innovate summits in Philadelphia, on March 5, and Jacksonville, Fla., in April.
"Innovation is happening at a remarkable pace all around us," said Capture President Leonard Napolitano. "During Capture's Innovate client summits, we will share in each other's expertise, learn and grow, so that all of us who care about the future of higher education can be successful at solving the challenges of the present and future."
Capture's Innovate Louisville keynote speaker will be Jessica Bellamy, an award-winning infographic designer who created the Grassroots Information Design Studio (GRIDS). This social enterprise combines grassroots organizing, research and information graphics. Bellamy has been featured in Arianna Huffington's Thrive Global, Forbes, Communication Arts Magazine, The Great Discontent, Create Magazine, Creative Mornings, The Dieline, Revision Path and on Adobe's Project 1324.
Sessions and workshops at Innovate will include:

You Work in Admissions. That Means You Work in Data.
Apply, Aid and Enroll: Revving Up Your Predictive Engine
Slate and Capture: Better Data ... Better Together
Emailing Gen Z: Best Practices in the Age of Texting
Counting Clicks: Dynamic DDA for the New Decade
"Innovation is in Capture's DNA," Napolitano said. "Our Behavioral Intelligence Platform is fundamentally changing how universities engage prospective students. Innovate 2020 is the perfect opportunity for Capture to collaborate with our partners as the new decade begins. We look forward to sharing ideas about how data, marketing automation, predictive modeling — the kind of technological solutions that have disrupted and invigorated other industries — can be effectively and appropriately applied to university recruitment and enrollment management."
Available for Comment
Leonard Napolitano, Capture President
About Capture
Headquartered in Louisville, Ky., Capture is a leading innovator of marketing platforms and services for higher education recruitment and enrollment management. Capture's Behavioral Intelligence Platform offers solutions throughout a prospective student's college decision process.
With industry-leading marketing automation, fully managed services and AI-powered predictive modeling built specifically for higher education, Capture gives institutions the control needed to effectively target interested students in relevant ways that increase engagement and drive admissions.
Founded in 2011, Capture has served hundreds of higher education institutions and programs across the country while being recognized by Inc. 5000 as a fastest-growing U.S. company.