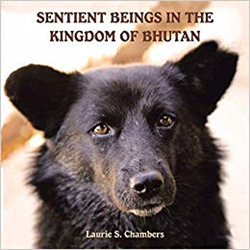 We are all interconnected and serve purpose, and help is always available and constant.
CAMARILLO, Calif. (PRWEB) March 30, 2020
The Kingdom of Bhutan has become the premier model for the humane management of large dog populations, living freely. Bhutan's wild dogs are an important part of the area's ecosystem and live in harmony with the human residents.
In "Sentient Beings in the Kingdom of Bhutan" Laurie S. Chambers provides an inspirational book of photographs and stimulating words, capturing the four-legged and two-legged sentient beings caring for one another in the Kingdom of Bhutan. Chambers' book depicts the spirit and essence of the area, its inhabitants, and the teachings of Buddha, while perfectly demonstrating the symbiotic relationship between the various forms of life and their value.
"Stray dogs peacefully co-exist in the kingdom alongside humans and other animals," Chambers said, "because its residents abide by the wisdom of the Buddha, who expounded that sentient beings currently living in the animal realm have been our family and friends in past incarnations."
After traveling in Bhutan, Chambers reflected on the photographs she captured and the messages she felt in the eyes of the dogs she encountered. None showed fear or despair. Rather, Chambers felt inspirational words coming to her through them. She referred to "Kotodama," the Japanese belief that supernatural power dwells in words, as they came alive to her in each image.
Through these images and their inspired words, Chambers provides hope and positivity to share with others.
"Hope and love are all around us and come in many forms," Chambers said. "The respect for life, in all its forms, is something sacred. We are all interconnected and serve purpose, and help is always available and constant."
"Sentient Beings in the Kingdom of Bhutan"
By Laurie S. Chambers
ISBN: 978-1-9822-3270-2
Available at Balboa Press and Amazon
About the author
Laurie Chambers is a certified Reiki Master Teacher/Practitioner, of several lineages and styles, from the most well-known teachers. She is also a labor and delivery nurse and uses her Reiki techniques in the delivery room. She has traveled and lived all over the world, at one point getting rid of most of her possessions to roam and observe life, while capturing it on her camera. She is a music lover, how has photographed bands on tours, as well as her journeys and the people she meets. To learn more about the author and her book, please visit: https://www.balboapress.com/en/bookstore/bookdetails/796221-sentient-beings-in-the-kingdom-of-bhutan.
###
Review Copies & Interview Requests:
LAVIDGE – Indianapolis
Lindsey Gobel
317.435.2116
lgobel@lavidge.com