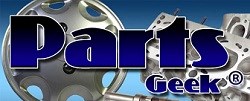 We offer unbeatable discount prices on domestic and import auto parts and accessories
Los Angeles, CA (PRWEB) August 19, 2013
Parts Geek, retailer of discount auto parts on the web since 2002, announces it has surpassed 500 reviews for Volvo parts on its site with an approval average of five out of five stars. Priding itself on offering the best customer service on the Internet, Parts Geek carries new and refurbished or rebuilt auto parts from certified manufacturers and trusted brands. A full list of the nearly 55,000 Volvo parts and accessories available can be found online at http://www.partsgeek.com/makes/volvo.html.
Carrying over 10 million domestic and import parts for nearly every popular make and model available, Parts Geek offers discounts of up to 80 percent off retail prices. Site visitors can search by make and model of their vehicle, part number, keyword, or the year of their vehicle to find the exact item they're looking for.
All Parts Geek parts are the same name brand automotive parts and accessories that could be found at a local auto parts store or dealership. Popular brands include Edelbrock, Magnaflow, Bushwacker, Flowmaster, Taylor, and many more.
"We offer unbeatable discount prices on domestic and import auto parts and accessories," according to an article on the Parts Geek website. "With shipping from many auto parts warehouse locations throughout the United States, you will receive your cheap auto parts fast. You can choose from millions of new, OEM, performance, aftermarket, and rebuilt discount auto parts online from trusted high quality manufacturers."
Parts Geek's online catalog is updated daily for the most accurate stock availability, so shoppers can get the parts they need quickly. In addition, parts are often shipped the same day. Parts Geek has a return rate for quality better than the industry average, and backs all parts with a 30-day money back guarantee.
Parts Geek offers U.S.-based support and prides itself on offering the best service on the Internet. From headlights to filters to switches and motors, Parts Geek carries every part and accessory needed for home auto repairs.
About Parts Geek:
Founded in 2002, Parts Geek offers the best and most competitive prices on millions of imported and domestic car parts and accessories. They carry new automotive parts, refurbished/rebuilt parts and more from reliable and certified manufacturers. All orders are fulfilled quickly from warehouses across the United States and come with a 30-day money back guarantee. For more information, visit: http://www.partsgeek.com/.