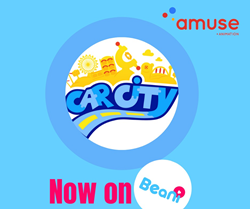 "Beani`s mission is to create a safe and fun environment for kids and their families. We are delighted to start this meaningful partnership with Amuse, the body of work and kids-first attitude that our new partner embody align perfectly with our core values"
LOS ANGELES (PRWEB) November 25, 2021
Beani.TV, a children's TV brand founded by the former head of Disney TV and TV Animation, Dean Valentine and Rotem Gindi, Founder and CEO of Vidstart have reached an agreement with the internationally animation studio Amuse. The agreement was finalized in August 2021 includes 17 top tier series from the leading Parisian animation studio that currently feature in Beani`s content selection.
Now Beani viewers can follow Amuse's content on the Beani.TV app.
"Beani`s mission is to create a safe and fun environment for kids and their families. We strive to create a sense of community where kids can enjoy and explore diverse experiences. We are delighted to start this meaningful partnership with Amuse, the body of work and kids-first attitude that our new partner embody align perfectly with our core values"- Said Beani founder and CTO Rotem Gindi.
The essence of this collaboration and mutual goals can be further illustrated through this statement:
"The strength of our shows relies on the fact that we adopt an audience-centric approach. Thanks to the data-feedback and insights we continuously review on digital platforms, we are able to tailor our content to what kids truly want and mix it with great storytelling, to create deep connections and engagement with our characters" – Said Amuse founder Arthur Lener.
About Beani
Beani is a free, ad-supported streaming platform designed to create fun and safe video content for kids and their parents. From entertaining songs to learning lessons - Beani unites content to enhance the feeling of connection. Bean's content selection includes top tier content from prominent animation studios like Mattel (Barbie ,Thomas & Friends, Hot Wheels, Pingu and more.), alongside quality content from creators (Family Fun Pack, Scratch Garden, Little Big Toys, Savannah Kids and more) and original content production planned for the near future. Beani is currently available on Roku and on our website (Beani.tv) with an upcoming launch on Vizio and Samsung TV.
About Amuse
Based in Paris and founded in 2015, AMUSE is a digital animation studio and a distributor of online video content across all major digital, VOD and OTT platforms. We produce over 5 series per year and manage content across 100 channels, collecting 600 million views per month in the process. AMUSE works with more than 120 artists and creators, most in Europe, and deals with more than 60 Intellectual Properties, and a hundred channels, which allow AMUSE to broadcast its content worldwide.
For more information, visit our Roku channel or website and follow Beani on Facebook, LinkedIn, and Instagram.