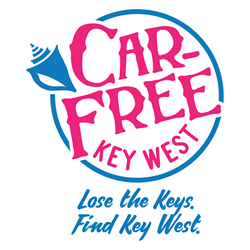 In the first three months of operation, the Duval Loop achieved a 300% increase in ridership.
MIAMI (PRWEB) July 18, 2018
"Lose the Keys, Find Key West" is the message behind the Car-Free Key West campaign, aimed at reducing traffic congestion through use of public transportation and by supporting pedestrian and bicycle safety within the city. The campaign offers residents and tourists an alternative to driving and demonstrates that Key West is best enjoyed outside of a car.
Car-Free Key West's success has been recognized at the 2018 Florida Commuter Transportation Summit, sponsored by the Florida Department of Transportation (FDOT), and hosted by the Center for Urban Transportation Research. This year's Summit was held on May 8-9, 2018 at the Turnbull Conference Center at Florida State University in Tallahassee, Florida.
The annual Summit includes presentations on innovative approaches to Transportation Demand Management topics and updates from the FDOT districts. Recipients of the Florida Travel Choices Awards and Commuters Choice Certificate Graduates were recognized, as well as the Florida Best Workplaces for Commuters for 2018.
South Florida Commuter Services (SFCS), in partnership with the City of Key West, District 6, and Diaz & Cooper Advertising, was awarded the 2018 TDM Travel Choices Marketing Excellence Award for the development of the Car-Free Key West campaign.
Launched in 2017, the ongoing integrated campaign includes the development of a website, online and radio advertising, social media, interactive and rack maps for bicycles and pedestrians, as well as branding the new Duval Loop and collateral materials to support the campaign's educational and safety messages.
To make this a true community effort, SFCS and the City of Key West outreached to local retail and hospitality businesses, organizations and community leaders to become partners in spreading the word about the effort. "To date, over 75 businesses and organizations have signed up to become "Car-Free" partners." says James Udvardy, Project Director for SFCS and 1800234RIDE.
Another important aspect of the campaign was the branding and launch of the city's new circulator bus, The Duval Loop, which runs from the Gulf to the Atlantic adjacent to Key West's world-famous main street. The campaign website saw an average of 45,000 visitors in the last 3 months, from domestic and international feeder markets - that was an 89% increase in visits compared to the previous 3 months. Most importantly, in the first three months of operation, the Duval Loop achieved a 300% increase in ridership and the trend continues as more residents and tourists hear about the new service.