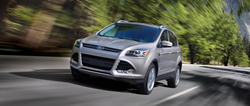 CHATTANOOGA, Tenn. (PRWEB) October 31, 2018
Shopping for a used vehicle is becoming easier than ever thanks to the internet. While it can still be a stressful process, many of the headaches and inconveniences are being alleviated by the advent of online shopping. One used dealership in Chattanooga is taking full advantage of this with its fairly new website, http://www.CarExpress.net.
The most obviously useful tool that the website provides is its online inventory, which gives shoppers the rundown on each and every vehicle found on the dealership's lot. This includes information about the specifications and features the vehicle offers, as well as pertinent information like its mileage and price tag. Once potential buyers find a vehicle or two that they're interested in, they can schedule a test drive right from the comfort of home as well.
With plenty of other tools, like getting online credit approval or seeing a list of services that the dealership offers, Car Express is eager and ready to meet all of the automotive needs of anyone in its general vicinity. That means it's prepared to provide its services to shoppers outside the boundaries of Chattanooga, in neighboring cities such as Cleveland, Tennessee.
Residents of Chattanooga, Cleveland, or any other cities in the area are encouraged to check out the website for all of their automotive needs. Any questions that might arise throughout the shopping process can be directed to the sales team at 877-469-4588. Car Express is located at 2226 Encompass Drive in Chattanooga.