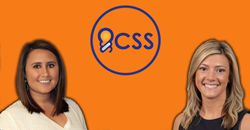 We here at CSS are proud of both Cara's and Alyssa's achievements and we wish them continued success and safe travels to the upcoming President's Club trip!
MOUNT LAUREL, N.J. (PRWEB) March 03, 2020
Contemporary Staffing Solutions (CSS) would like to recognize the achievements and promotions of Cara Ward and Alyssa Mahoney of the Professional Staffing Group (PSG) team.
Cara Ward started her CSS career in September 2016 as an Account Executive. Cara came to see CSS with a strong background in sales and business development and has thrived during her time here: Cara was named Rookie of the Year in 2017 and has achieved President's club, an all-expense-paid company trip to a tropical destination that only top performers in CSS are invited to, for the past three years (2017, 2018, and 2019). In January (2020), Cara was promoted from Account Executive to Senior Account Executive.
"Cara is one of the hardest working salespeople I have ever had the pleasure of working with. There is no challenge that Cara doesn't face head on. She has earned the respect of her peers, clients, and candidates through her genuineness, determination, and tireless efforts to earn their continued business. I am honored to work with Cara every single day and I am grateful for her dedication and commitment to our team. I am excited to see what new trails Cara blazes this year!" says Evan Violette, Managing Director of PSG.
Coming to CSS with previous experience in the staffing industry, Alyssa Mahoney began her CSS career in October 2016 in our King of Prussia, PA office. As of this past January, Alyssa was promoted from Staffing Specialist to Senior Staffing Specialist. Alyssa is a hardworking and dedicated recruiter that has attained President's Club two years in a row (2018 and 2019) and has also won the prestigious Purple Cow Award for her excellent service to both candidates and clients.
"Alyssa Mahoney is a natural leader on the PSG team and is extremely deserving of her promotion to a Senior Staffing Specialist. She is always focused on quality over quantity when it comes to her recruitment efforts, and in her new role, Alyssa will continue to foster additional client relationships and maintain relationships with her current clients that absolutely love working with her," says Alyssa Mastrangelo, Recruiting Director of PSG.
We here at CSS are proud of both Cara's and Alyssa's achievements and we wish them continued success and safe travels to the upcoming President's Club trip!
About Contemporary Staffing Solutions
Contemporary Staffing Solutions (CSS) is a company that exudes unwavering results with urgency, honesty, and integrity. CSS has been a leading provider of contract, temporary, and direct hire solutions. Nationally supporting Salesforce Projects & Managed Services and staffing solutions with a focus in Accounting & Finance, Human Resources, Sales & Marketing, Information Technology, Salesforce, and Call Center & Office. Everyone at CSS operates with pro-active pipelines, the highest business ethics, a winning spirit in our approach, and a team-oriented workflow with real cross-training. The CSS team coaches you with current business intelligence so that we can timely deliver solutions to meet your expectations. Our testimonials on our website tell the story from our clients and candidates—check them out!