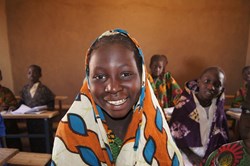 Education is the most powerful weapon you can use to change the world. - Nelson Mandela
Los Angeles, CA (PRWEB) February 11, 2014
Since 2001, American taxpayers have spent approximately $1.5 trillion on the wars in Iraq and Afghanistan, and $11.26 million continues to be spent each hour. According to the National Priorities Project, for fiscal year 2014, Military spending comprises 57% of the president's proposed discretionary budget and 17% of the planned total budget, which includes mandatory spending and interest on federal debt. Education is 6% of the discretionary budget (2% of the total), and International Affairs is 3% (1% of the total).
Despite the overwhelming amount spent on the U.S. military, government officials and political analysts are increasingly questioning how effective this prioritization has been for homeland security. In "Islamist Violence and a War of Ideas," published in The New Yorker blog, George Packer writes: "War turned out to be far too blunt an instrument against the complexity, volatility, and durability of Islamist violence. Targeted kidnappings and killings are effective against the leadership but do nothing about the next generation of recruits, perhaps only galvanizing it. And yet one approach that impatient, action-loving, results-oriented Americans have not given enough thought to is addressing the heart of the violence: the terrible ideas that license massacres in the name of religion."
That article was posted in October 2013, but nearly a decade earlier, the 9/11 Commission similarly concluded in its 2004 report that eliminating al-Qaida as the greatest threat to U.S. security will ultimately require ''prevailing in the longer term over the ideology that gives rise to Islamist terrorism." Waging a war of ideas is hardly a new idea, and something the U.S. government navigated for decades during the Cold War, but seems to be lagging in now.
This approach, involving public diplomacy, strategic communications, and leveraging information technology, is arguably cheaper, subtler, and more complex than physical warfare. At the most basic level, it begins with education – a fundamental factor in a nation's security and quality of life.
Education needs increased resources within the U.S., both in rural areas and inner cities. But while the U.S. military budget is staggering in contrast with education investment in the 50 states, it is even more so contrasted with the West African country of Mali. There, for an elementary school of one hundred children, $2,500 USD pays all teachers' salaries for a given school for the entire year; $400 pays for school supplies and $450 pays for food for one class for an entire year; and $12,000 builds one classroom of cement construction.
Within northern Mali, the fabled city of Timbuktu was a renowned center of learning and book trading from the 13th through the 16th centuries. Today, the region has some of the world's lowest literacy rates. Several factors have marginalized the region, including the central government's underinvestment in the country's north; desert and drought conditions exacerbating poverty, especially for semi-nomadic, pastoralist Tuareg peoples; and Islamist violence exploiting ethnic tensions.
Timbuktu was also home to hundreds of thousands of ancient manuscripts on topics including astronomy, mathematics, philosophy and medicine, though some of the manuscripts were destroyed in the Islamist militant occupation of Timbuktu during 2012-2013.
Caravan to Class is a U.S.-based nonprofit that builds schools in the Malian Sahara and assists in their early years of operations with supplies, nutrition and teachers' salaries until the schools can be self-sufficient. Its founder, Barry Hoffner, states: "Education and literacy are precursors to employment and a worldview with possibility. When people can earn a sustainable living and see possibilities they are less likely to resort to desperate choices, such as the lucrative smuggling and kidnapping that has occurred throughout the Sahara in recent years, or be influenced by extremism. They can see more options, and invent new solutions to old problems."
Foreign aid makes a significant and positive difference, and education is one of the most valuable investments available. Governments investing more in education in their own countries and others, aided by investments from the private sector and individuals, would affect many measures of "homeland security" and national well-being that currently receive far more investment.