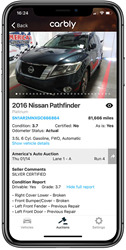 CHICAGO (PRWEB) January 14, 2021
Ambient Automotive has partnered with Auction Edge to integrate EDGE Pipeline auction run lists into their popular dealer software Carbly VIN Scanner. This advancement enables dealers to view complete Pipeline auction listings for over 165 auction locations across the United States, bringing Carbly's total coverage to over 260 auction houses.
Carbly dealers can now browse their favorite EDGE Pipeline auctions to source their preferred inventory, while reviewing comprehensive vehicle details, history, and appraisal data for retail, wholesale, and auction values - all in one place. Carbly also employs advanced analysis to summarize all vehicle information into a combined valuation dashboard to make quicker, data-driven decisions while in the lanes.
"This partnership unifies our common goal", said Scott Roth, CEO of Ambient Automotive. "Merging the technology to help dealers efficiently source inventory and accurately appraise vehicles with a data-driven model. It gives our users a major advantage in the marketplace."
This convergence of pricing data and auction listings allows dealers to prepare for upcoming auctions, browse run lists, and appraise vehicles with seamlessly integrated data feeds. Dealers can select their preferred appraisal data, with options from Black Book, NADA, Manheim Market Report, Kelley Blue Book, Real Retail and more. Vehicle history can also be added into the Carbly environment, with CARFAX and AutoCheck fully integrated.
Dan Diedrich, CEO of Auction Edge, added: "Carbly's user experience is one of the best in breed to meet dealers' real time needs, and adding our inventory was a natural fit. We are excited to partner with Ambient on this integration, and others to come."
EDGE Pipeline auction run lists are available now, free of charge, to all Carbly users.
About Carbly
Carbly was founded in 2017 with the goal of helping car dealers make informed, data-driven decisions regarding vehicle sourcing, valuation and inventory management. Blending world-class technology and user-centered design, the Carbly team has an established track record of building robust business solutions across numerous industries.
About Auction Edge
Auction Edge is the premier remarketing technology provider to independent auto auctions across the United States. Over 240 independently owned auctions managing over 4 million vehicles each year, utilize the Auction Edge platforms and marketplaces to operate efficiently, dominate locally, expand their reach globally and compete nationally. Founded in partnership and built for independent auctions, the fully integrated and innovative Auction Edge platforms include EDGE ASI, EDGE AuctionOS, EDGE Pipeline, EDGE Lookout, EDGE Simulcast and EDGE Multi-List. Together, the Auction Edge products deliver an unparalleled competitive advantage to independent auctions across the remarketing industry. Auction EDGE is headquartered in Seattle, WA. For more information visit http://www.auctionedge.com.