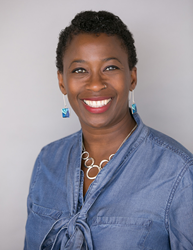 SAN FRANCISCO (PRWEB) December 10, 2020
Carbon Five, the digital product development consultancy, has announced the appointment of Ruth C. White, PhD, MPH, MSW as director of diversity, equity and inclusion (DEI).
In her new role, Dr. White will lead the development and implementation of DEI strategy and programming at Carbon Five. She will work closely with staff to develop a sustainable and enduring plan that will help the company grow as a diverse and equitable workplace. Dr. White will play a critical role implementing tactical DEI initiatives across all dimensions of the company's operations. This includes the examination of recruitment, management practices, marketing, social events, and more.
"We're so excited to have Dr. White join the team to help lead our DEI efforts. Her experience, skill and enthusiasm are a perfect fit," shared Michael Wynholds, partner and CEO of Carbon Five. "We are continuing to make concrete commitments towards fostering diversity, equity, and inclusion at Carbon Five. We recognize that our growth is in-flight and are excited to have Dr. White guide us forward with systemic, process-based solutions. I'm really looking forward to working with her."
Dr. White brings over three decades of experience as a DEI consultant and mental health advocate. Prior to joining Carbon Five, she taught at the University of Southern California as a clinical associate professor of social work. She is author of "The Stress Management Workbook: De-stress in 10 minutes or less" and "Everyday Stress Relief: Essential techniques to boost resiliency and improve your health." During the COVID-19 crisis, Dr. White has become a frequent mental wellness advisor for KRON4 TV Bay Area Morning Buzz.
"I am excited to start my corporate DEI career with Carbon Five," shared Dr. White. "I look forward to leading our efforts to create a culture in which we continually ask, 'Who is not here? Why are they not here? What will we do to bring them here? And how do we make them feel as if they belong when they get here?'."
About Carbon Five
Carbon Five is a digital product development consultancy that partners with clients to create exceptional products and grow effective teams. It works with startups, growth stage and enterprise brands like Autodesk, Charles Schwab, Genentech, Hulu, Masterclass, SFMOMA, Stitch Fix and more. The company has five US locations in San Francisco, Los Angeles, New York, Chattanooga, and Seattle. Learn more at http://www.carbonfive.com.