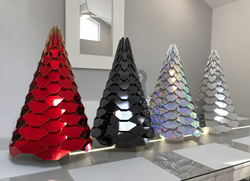 As with all of our products the Bracht Holiday Trees are made from eco-friendly and sustainably sourced materials.
CHARLOTTESVILLE, Va. (PRWEB) October 23, 2019
For the 2019 Holiday season Cardboard Safari has created a new line of mid-century modern Bracht Holiday Trees. These trees are easily assembled and are sure to become a holiday favorite the whole family will enjoy constructing and decorating year and after year. The perfect display for home or office and it makes a great gift.
Bracht Holiday trees are available in birch plywood, a variety of printed and unprinted cardboard, as well as a range of metallic foils. The trees come in three sizes: 16", 28" and 6.5' tall versions for a stunning holiday decoration that can fit in any size space. Variations include a slotted version to hold Holiday cards and metallics that shimmer brilliantly under light. Bracht can be internally lit using low temperature LED lights for a stunning mid-century modern style. Bracht is perfect as a unique accent to your holiday decor.
As with all of our products, our trees are made from eco-friendly and sustainably sourced materials, created and manufactured in Charlottesville, Va. USA. Need a custom color, pattern or size, please contact us at info@cbsafari.com for details. Packaged flat for shipping: includes detailed instructions. One tree per package.
Patent Pending.