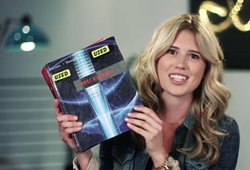 People are experiencing the back to school cash crunch, and now, more than ever, we wanted to do something about it
Brick, NJ (PRWEB) August 18, 2017
CardCash.com, the leading online gift card exchange announced today the launch of their Back To School - College Savings Tips campaign.
CardCash purchases unwanted or unused gift cards from those who don't want them and sells them to those that do, enabling customers to save money on all their purchases every time they shop on thousands of major brands. CardCash is dedicated to helping consumers save money. "Using Card Cash on all my purchases has given me more money in my pocket to spend on things I've always wanted," said Rebecca, a loyal CardCash customer.
As part of CardCash's dedication to help the public save money, CardCash has launched the first in what will be a series of tips, videos and resources to educate and inform people of great ways they can save money. Although back to school season is exciting, financially it is a hard time for students and their parents. "People are experiencing the back to school cash crunch, and now, more than ever, we wanted to do something about it," says Steven Weldler, V.P. of Marketing. "We were excited to launch this comprehensive site loaded with tips, savings ideas and a great video. We spent many weeks speaking to college students and their parents to understand what they really need."
Although many college parents are savvy shoppers and price conscious, finding the right products at the best price and determining which retailers carry those products can be a daunting task. CardCash compiled some of the most commonly desired products with recommended retailers, and matched them to CardCash's discounted gift cards, allowing college students and their parents to be sure they are getting the very best price. The campaign includes a comprehensive downloadable shopping list and app recommendations for savvy saving.
A variety of industry experts collaborated on the project as well, "The majority of college-bound students live within commuting distance of a relatively inexpensive community college," notes Timothy Weidman, retired Associate Professor of Management & Human Resources at Doane University. He therefore recommends completing a two year program while living at home before transferring to a more expensive 4 year school.
Great savings can be had by using price comparison tools, says Adam Gauvin VP and Head of Product at one such tool, wikibuy.com. Mark Cantrowitz of cappex.com offers this advice to students, "Live like a student while you are in school, so you don't have to live like a student after you graduate," a sentiment echoed by Jim Wang, founder of Wallethacks.com, who says the best strategy for saving in college is buying used wherever possible.
The CEO of study.com, Adrian Ridner, recommends saving money on tuition by supplementing your credits with options such as CLEP or online courses. "Students should make sure they apply to as many scholarships as possible," urges Brandon Yahn, founder of studentloansguy.com, "If they don't they could be leaving free money on the table". Perhaps the best advice comes from Kate McCauley of Marymount University who says "Don't go to the best school you get into. Go to a fine school where you help raise their admissions scores. They offer a lot more money in grants, fellowships, and aid."
CardCash also reached out to their valued partners to help in this campaign. "We are proud ​to ​work with prominent retail outlets such as eBay​ and innovative financial services partners such as Gift of College​ who gladly joined us in this important cause," said Tom Ochoa, Senior V.P. of Business Development. Gift of College is also a proud partner in this campaign. Gift of College strives to make education more affordable for all through their innovative social savings platform that makes it easier than ever for friends and relatives to help save for a child's college education.
"CardCash, is one of the most trusted names in savings and our customers turn to us for new ways to save. We are proud of this and look forward to consistently making savings easier and more exciting for everyone," said Elliot Bohm, co-founder and CEO.
You can find out more about this campaign at https://www.cardcash.com/gift-card-savings-tips-for-college/. For any press inquiries or more information please reach out to press(at)cardcash(dot)com.
CardCash was co-founded in 2009 by Elliot Bohm, CEO and Marc Ackerman, COO. CardCash is no stranger to recognition for their accomplishments, and has been cited by various major media outlets including Forbes, CBS, Inc., Stacking Benjamins, and more.