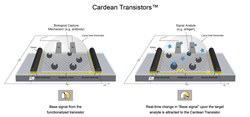 "We think of it as the start of the Internet of Biology. Our Tech+Bio Infrastructure will help solve some of the biggest problems humankind is still facing such as severe diseases, lack of food safety and security, limited precision medicine and effective treatment..." Michael Heltzen, CEO of Cardea
SAN DIEGO (PRWEB) October 06, 2020
Cardea Bio Inc., who is using graphene-based Biology-gated Transistors (Cardean Transistors™) to directly link the live signals that run biology up to electronics and computers, today announced they received an additional fundamental key patent from the United States Patent and Trademark Office's Notice of Allowance. This is one of several fundamental patents empowering Cardea to be the first and only company to mass produce graphene transistors at commercial scale.
Silicon-based electronics and chipsets have revolutionized our lives by powering computers, smart phones, the Internet; enabling unlimited access to most information and data. However, because silicon is a non-biocompatible material, our currently available electronic systems are not a viable way to access the world's largest networks of big-data: the molecular data signals that run biology.
Graphene is a nanomaterial that, due to its unique nano-physics properties of being biocompatible and a much faster conductor than silicon, is able to directly connect up to biological signals. In the world of biology, signals are molecular binding interactions of DNA, RNA, and proteins, for example: RNA binding to DNA, and protein-protein binding interactions.
Cardean Transistors operate similarly to silicon semiconductors in that a transistor gate is said to either be open or closed, increasing or decreasing the electrical conductivity of the transistor. This gate change is represented as a 1 or 0 in the digital world. In order to link the two worlds up, there was a need for a solution that could convert the DNA, RNA, and protein binding based signals into electronic 1s and 0s in near real-time. Cardean Transistors use bits of molecular biology as gates and utilizes binding interactions as the gate change in order to mend this missing link. A Cardean Transistor can for example use an antibody as one side of the gate. If it senses the antigen signal in the biology, they bind and the gate closes, and if not, the gate remains open. With this simple principle, built with very advanced and complex-to-manufacture technology, a molecular signal can become an integrated part of a computer system and allow people to link computers up to biology.
Cardean Transistors are the core of Cardea's Tech+Bio Infrastructure and can be combined with different kinds of small bits of DNA, RNA, and proteins to build different chipsets (e.g. CRISPR-Chip™, that uses CRISPR as the transistor gate). These chipsets, when combined with modern electronic hardware and cloud-based computational analytical power (such as ML and AI), allow for a new generation of "Powered by Cardea" applications and products with features and capabilities that until now have only been dreamt of. This new type of technology can live-stream biological multi-omics signals to create a bridge between digital and biological networks to provide virtually live insight to life and biology. This can be done at a scale that's never been possible before and with the potential to change how we do life science, medicine, agriculture and anything else that has an element of biology to it.
Cardea has been developing their Cardean Transistors and Tech+Bio infrastructure since 2013. As the R&D pioneers of graphene transistors and biosensors for detection of biological signals, the company is today the only company in the world with patents, know-how, and capabilities to mass produce gFETs (Graphene Field Effect Transistors) at commercially viable quality. Based on this market leadership and innovator position, Cardea continues to add to its growing IP and international patent pool of approximately 40 patents and patent applications. These patents cover this new Tech+Bio industry, as well as a vast number of technology processes and methods for when mass producing any graphene-based transistor or sensor.
Dr. Brett Goldsmith, Cardea's CTO, Co-founder, and Co-inventor of most of the Cardea patents and patent applications, says, "It is an honor to get our many years of complex and interdisciplinary efforts in the R&D lab recognized as being novel, non-obvious and rightfully ours. For example, this last patent on the fabrication process of "Patterning graphene with a hard mask coating" took years of R&D effort to get to work well and then an additional four years of patent application work." Dr. Goldsmith continues, "It is a long journey with many ups and downs to develop brand new technology. Getting biology and electronics to work together is not easy. We are motivated by the fact that our technologies will help many people via our Innovation Partners."
All of Cardea's patented processes for mass production of Cardean Transistors have already been used in the Cardea production department for years. The patented processes are used to produce Cardean Transistors and the chipsets that sit inside "Powered by Cardea" products. One example of such a product is the recently launched CRISPR-BIND, a CRISPR quality control R&D instrument made together with the CRISPR QC group. CRISPR-BIND is used to reduce complexity and resources for researchers performing genome engineering, while ensuring that no errors or mistakes incur.
Cardea CEO and Co-founder Michael Heltzen says: "The same way silicon transistors have allowed knowledge and information to benefit people at a whole new scale over the last couple of decades, we at Cardea are on a mission to let everybody have access to all relevant biological information, data and signals - as live data-streams." Heltzen continues, "We think of it as the start of the Internet of Biology. Our Tech+Bio Infrastructure will help solve some of the biggest problems humankind is still facing such as severe diseases, lack of food safety and security, limited precision medicine and effective treatment, as well as sustainable ways of producing resources without pollution. With digital insight to how biology works, we will be able to use biology as technology. Think of it as a new and sustainable natural resource becoming available to current and future generations of humankind."
"I strongly believe that the innovation and inventions happening here at Cardea will change the world for the better. Getting another key patent and being recognized as pioneers in the life science and advanced semiconductor industry is a huge accomplishment for our team and it helps us to stay motivated in our venture to achieving our ambitious goals of giving people easy access to biology as technology" finishes Heltzen.
About Cardea Bio
Cardea is linking biology directly up to computers for the very first time by building a Tech+Bio Infrastructure and offering chipsets based on proprietary Biology-gated Transistors, or Cardean Transistors™. These transistors leverage graphene, a nanomaterial that in contrast to the common semiconductor material silicon, is biocompatible and a near perfect conductor due to only being one atom thick. It that way it replaces optical-based static datasets, with interactive live-streams of multi-omics signals, representing a new life science observation paradigm where multi-omics data-streams will be the new norm instead of current life science datasets that are single-omics perspectives and frozen-in-time. Together with their Innovation Partners, Cardea can link biology directly to compute power and convert real-time biological signals to digital information, allowing for immediate biological insight and a new generation of applications Linking up to Life.
Partnership inquiries
Rob Lozuk
Chief Business Officer
partner@cardeabio.com
Media inquiries
Amanda Zimmer
Marketing Manager
marketing@cardeabio.com