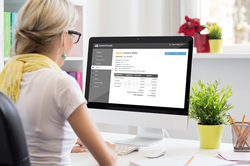 "The rollout of Level 2 Interchange Qualification support is the latest addition to our software suite aimed at meeting the needs of businesses looking to accept B2B payment transactions from their computer when the cardholder is not present" — Peter Wagener, Chief Technology Officer
NEW YORK (PRWEB) June 26, 2019
CardFlight, the leading SaaS payment technology company, today announced the introduction of Level 2 credit card processing support for SwipeSimple, the company's signature software. Starting July 1st, merchants will be able to gather and track a set of additional data points for each transaction via the SwipeSimple Merchant Web Dashboard, enabling them to meet Level 2 standards and access lower interchange rates.
"The rollout of Level 2 Interchange Qualification support is the latest addition to our software suite aimed at meeting the needs of businesses looking to accept B2B payment transactions from their computer when the cardholder is not present," said Peter Wagener, Chief Technology Officer at CardFlight. "Our team has invested significant time and resources over the past year in expanding the capabilities we offer via SwipeSimple to include features such as Invoices and Customers and tools like SwipeSimple Terminal, which help bring our payment acceptance technology to even more small businesses across industries."
The newly introduced Level 2 Interchange Qualification support will add to SwipeSimple's existing suite of tools designed to empower small businesses to accept payments easily and securely. As of July 1st, Level 2 Interchange Qualification support will be available to merchants accepting payments on their computers, within the SwipeSimple Merchant Web Dashboard, at no additional cost.
"As a processing partner, we know the impact every dollar has on the bottom line for our merchant customers," added Evan O'Brien, Director of Partner Relationships at Payroc. "It is important that we are able to educate and offer ways to optimize how much they pay on Interchange. Our B2B merchants -- from professional service providers to companies selling high-ticket items into corporations -- will benefit from using SwipeSimple even more with the addition of Level 2 Interchange Qualification tools."
To learn more about CardFlight introducing Level 2 Interchange Qualification support to SwipeSimple, for at-your-computer payment acceptance, please visit http://www.cardflight.com.