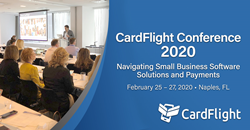 "Our goal for CardFlight Conference is to make a space for those driving the innovation in our industry to learn from and collaborate with each other. This year's strong speaker lineup and generous sponsor support promise to make this a conference that will move the needle."
NEW YORK (PRWEB) February 19, 2020
CardFlight, the leading SaaS payment technology company, will hold its third annual CardFlight Conference in Naples, Florida, from February 25th to 27th, 2020. The conference theme will be, "Navigating small business software solutions and payments."
The event will feature sessions on emerging payments trends and business development tools, thought-provoking conversations with industry leaders, and networking opportunities with peers in the payments industry. Attendees will be able to hear from experts on the key trends they're watching, share best practices with their peers at merchant acquirers and other payments firms, and learn how to grow their small business portfolios and maximize profitability.
"We look forward to bringing together so many of our peers and partners for our most comprehensive conference yet," said Derek Webster, Founder and CEO of CardFlight. "Our goal for CardFlight Conference is to make a space for those driving the innovation in our industry to learn from and collaborate with each other. This year's strong speaker lineup and generous sponsor support promise to make this a conference that will move the needle."
To open the conference, Webster will present a keynote speech sharing his industry outlook. The remainder of the conference will include presentations and interactive panels from leaders across the payments industry.
Featured speakers and panelists include:

Sarah Adams, Vice President, Global Product at First American Payment Systems
James Derby, Vice President, Merchant Product at Payroc
Mike English, Vice President at Beyond
Denise Fox, Vice President, Product Management at Electronic Merchant Systems
Steve Klebe, Business Development at Google Pay
Tony Lucento, Sr. Manager, Implementation Engineering at Verifone
Heather Nowak, Merchant Services Product Manager at First Citizens Bank
Scott Paape, Sr. Vice President, Sales and Operations at Talus Payments
Alexander Paull, Director, Global Merchant & Network Services at American Express
Kenneth F. Schember, Vice President of Middle Markets ISV/VAR Solutions at PAX Technology
Tom Sheridan, Sr. Account Executive at Visa
John Shipley, Sr. Vice President, Third-Party Relationships at Clearent
Scott Talbott, Sr. Vice President, Government Affairs at Electronic Transactions Association
Representatives from Discover Financial Services
Event sponsors include:
Gold-Level Sponsors

American Express
Discover Financial Services
Silver-Level Sponsors

BBPOS
CDE Solutions
PAX Technology
The Phoenix Group, an Ingram Micro Company
POS Portal
Visa
The conference will be held at the LaPlaya Resort. To see the full, up-to-date conference agenda visit http://cardflight.com/conference.