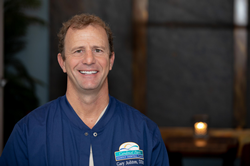 Dr. Ashton made certain I was comfortable and pain-free. He gave me my life and my smile back!
Leesburg, VA (PRWEB) May 09, 2019
Cardinal Park Family Dental Care offers life-changing full mouth reconstruction treatment with a full spectrum of services including Invisalign®, dental crowns and dental implants in Leesburg, VA. Patients living with discomfort or embarrassment from damaged or missing teeth can restore a healthy, functioning, and attractive smile through full mouth rehabilitation by visiting the dentists with or without a referral.
Full mouth reconstruction refers to a treatment process that transitions patients from a state of pain, embarrassment, or self-consciousness into one of health, function, and long-term beauty. Through a personalized combination of procedures, including dental implants, dental crowns, porcelain veneers, orthodontics, and/or teeth whitening, the dentists at Cardinal Park Family Dental Care restore the strength, position, and aesthetics of patients' teeth.
Candidates for full mouth reconstruction are patients with teeth that are chipped, worn down, gapped, mispositioned, and/or missing. Many times, candidates have underlying disease or decay and have multiple damaged or missing teeth, making it difficult to eat and talk properly. Patients with multiple dental and oral health issues also often suffer emotionally because of the appearance of their teeth and condition of their smile. The goal of full mouth reconstruction treatment is to bring health and function back to the teeth, bone, and gums so they function and look attractive long-term. This transformation commonly restores the confidence patients feel about themselves and their smile.
Donna, a recent full mouth reconstruction patient at Cardinal Park Family Dental Care, is a perfect example of how these personalized treatment plans can be life-changing. After conquering thyroid cancer, Donna's teeth retained the scars of her extensive treatments. Dr. Gary Ashton helped her release those memories and restore complete function and overall health with a custom full mouth reconstruction treatment plan. "Chemo and medication made my teeth weak, and I had broken a lot of my teeth. I didn't have a smile. Dr. Ashton made certain I was comfortable and pain-free. He gave me my life and my smile back," says Donna.
Patients who wish to have their smile transformed like Donna's with dental implants in Leesburg, VA, and other full mouth reconstruction treatments are encouraged to call Cardinal Park Family Dental Care even without a referral. The specialized team of dentists encourages patients to schedule an appointment by calling 703-779-2296 or visiting http://www.cardinalparkfamilydental.com.
About the Dentists
Cardinal Park Family Dental Care has been serving the Loudon County area with trusted dental care since 1999. Offering honest and comprehensive care, this team of dentists provides custom treatment plans and services, including single and full arch dental implants, Invisalign®, sleep apnea relief and cosmetic dentistry. Bringing training from prestigious organizations like the American Board of Oral and Maxillofacial Surgery, The Dawson Academy and the Engel Implant Institute, this team of leading-edge clinicians stay on the frontline of modern and minimally invasive dentistry. To learn more about this team, the services they offer or their technologically advanced practice, visit http://www.cardinalparkfamilydental.com or call 703-779-2296.
Video included in this release: https://youtu.be/sqLHpQZmDRk