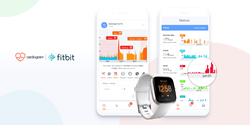 Partnering with Cardiogram to add a health condition screening tool further enhances our growing platform of technology-enabled solutions to help Fitbit users proactively manage their health.
SAN FRANCISCO (PRWEB) June 26, 2019
Cardiogram and Fitbit, Inc. (NYSE: FIT) have partnered to bring Cardiogram's suite of health monitoring features to Fitbit users around the world, with the goal to improve care management, empower users, and potentially save lives. Fitbit pioneered the wearables category more than a decade ago with the vision of making everyone in the world healthier, and today has more than 27 million active users around the world. The Cardiogram app is a digital health and fitness diary, using heart rate and sleep data from wearable devices and displaying it on a user's phone with insights and tracking. Over one million people use Cardiogram to track how their heart rate is affected by anything from stress, workouts, sleep, or even an episode of Game of Thrones.
Now, Fitbit users can access Cardiogram's health screening tools, which have been clinically validated to detect signs of conditions like diabetes, hypertension, sleep apnea, and atrial fibrillation using heart rate data from Fitbit devices. If a user is flagged as at risk for a health condition, they're offered convenient confirmatory diagnostic testing, and newly-diagnosed users are guided to condition management programs. Fitbit users have the option to upgrade to Cardiogram Premium—a subscription service that enables sharing of live Cardiogram data, insights, and confirmatory test results with a loved one or caretaker, and easily export data to share with a physician.
"A brand synonymous with health and fitness, compatibility with Fitbit has been one of our top user requests, and we're very excited to launch this partnership," said Brandon Ballinger, co-founder and CEO of Cardiogram. "Fitbit wearables have remarkably consistent heart rate accuracy, enhanced sleep tracking, and extended battery life, all of which improve a user's experience with Cardiogram as well."
"For the past decade, Fitbit has made simple and engaging health and wellness solutions accessible to millions of people, helping them make the behavior change that leads to better health outcomes. Building on our success in helping people reach their health goals, we continue to work to tackle some of the most common and costly conditions in healthcare," said Adam Pellegrini, general manager of Fitbit Health Solutions. "Partnering with Cardiogram to add a health condition screening tool further enhances our growing platform of technology-enabled solutions to help Fitbit users proactively manage their health."
Cardiogram is compatible with any Fitbit device with a heart rate sensor, including the Fitbit Charge™ family, Fitbit Versa™ family, Fitbit Inspire HR™, Fitbit Ionic, and Fitbit Alta HR™. Any Fitbit user can download the Cardiogram app for free from the Apple App Store (https://itunes.apple.com/us/app/cardiogram/id1000017994?ls=1&mt=8) or Google Play Store (https://play.google.com/store/apps/details?id=com.cardiogram.v1) starting today.
About Cardiogram
Cardiogram transforms ordinary consumer wearables with heart rate sensors into a personal healthcare companion. In a sequence of clinical studies with more than 14,011 participants, Cardiogram has validated accuracy of an artificial intelligence-based algorithm, DeepHeart, to accurately detect multiple major health conditions, including hypertension, sleep apnea, diabetes, and atrial fibrillation (https://cardiogr.am/research). Cardiogram was launched in 2016 by ex-Google tech leads Johnson Hsieh and Brandon Ballinger, was named the best iPhone app of 2016 by iMore, and has shown user engagement and retention that exceeds even Instagram and Twitter (http://circ.ahajournals.org/content/136/Suppl_1/A21029). If you would like to get Cardiogram added to your health plan, reach out to partnerships@cardiogram.com.
About Fitbit
Fitbit helps people lead healthier, more active lives by empowering them with data, inspiration and guidance to reach their goals. As the leading global wearables brand, Fitbit designs products and experiences that track and provide motivation for everyday health and fitness. Fitbit's diverse line of innovative and popular products include Fitbit Charge 3™, Fitbit Inspire HR™, Fitbit Inspire™, Fitbit Ace 2™ activity trackers, as well as the Fitbit Ionic™ Fitbit Versa™ smartwatches, Fitbit Flyer™ wireless headphones and Fitbit Aria 2™ Wi-Fi Smart Scale. Fitbit products are carried in over 39,000 retail stores and in 87 countries around the globe. Powered by one of the world's largest health and fitness social networks and databases of health and fitness data, the Fitbit platform delivers personalized experiences, insights and guidance through leading software and interactive tools, including the Fitbit and Fitbit Coach apps, and the Fitbit OS for smartwatches. Fitbit Health Solutions develops health and wellness solutions designed to help increase engagement, improve health outcomes, and drive a positive return for employers, health plans and health systems.
Fitbit and the Fitbit logo are trademarks or registered trademarks of Fitbit, Inc. in the U.S. and other countries. Additional Fitbit trademarks can be found at http://www.fitbit.com/legal/trademark-list. Third-party trademarks are the property of their respective owners.
Connect with us on Facebook, Instagram or Twitter and share your Fitbit experience.