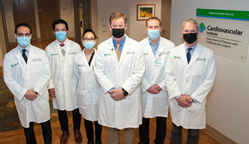 "AGH received top marks for three different procedures, and that's a testament to the remarkable care delivered by our leading surgeons and the entire multidisciplinary team across the AHN Cardiovascular Institute."
PITTSBURGH (PRWEB) April 16, 2021
Allegheny General Hospital (AGH), the flagship academic medical center of Allegheny Health Network (AHN), has earned the maximum three-star rating from the Society of Thoracic Surgeons (STS) for the quality and patient outcomes of its leading cardiovascular surgery program. The hospital is the first in the western Pennsylvania region to report the highest level of achievement across three categories of transcatheter aortic valve replacement (TAVR) and coronary bypass grafting (CABG) and Aortic Valve Replacement (AVR) with CABG, placing it among the most elite cardiovascular programs within the United States and Canada.
"The STS Adult Cardiac Surgery database represents more than 90 percent of the hospitals that perform cardiac surgery across the country and of those who submit for public reporting, only seven to 10 percent receive a three-star rating for a given procedure. AGH received top marks for three different procedures, and that's a testament to the remarkable care delivered by our leading surgeons and the entire multidisciplinary team across the AHN Cardiovascular Institute," said Stephen Bailey, MD, Department Chair of Cardiovascular and Thoracic Surgery. "We couldn't be more proud of their extraordinary work and unwavering commitment to compassionate care, quality and patient outcomes."
The STS National Database was established in 1989 and provides an opportunity for participants to publicly report on certain measures indicating quality of patient care and surgical outcomes. For each of these categories, the STS then compares how a hospital performs in relation to all hospitals in its database and adjusts those scores to take into account that certain hospitals treat older and sicker patients. The database currently houses roughly 6.9 million surgical records and has more than 3,800 participating physicians, including surgeons and anesthesiologists.
For heart bypass surgery, the ratings take into account patient survival, the absence of surgical complications, and two factors that reflect an adherence to best-established practices – giving the patient recommended medications and using optimal surgical techniques.
"The Society of Thoracic Surgeons congratulates STS National Database participants who have received three-star ratings," said David M. Shahian, MD, chair of the Task Force on Quality Measurement. "Participation in the Database and public reporting demonstrates a commitment to quality improvement in health care delivery and provides patients and their families with meaningful information to help them make informed decisions about health care."
In January, AGH became the first medical center in Pennsylvania to earn the Joint Commission's Gold Seal of Approval for Comprehensive Cardiac Center Certification. The hospital was also listed by Healthgrades as one of the country's top hospitals for overall cardiac care and surgery, and has received accolades from the American Heart Association for its robust heart failure program. It is also routinely ranked among the nation's top medical centers for three-year survival rates for adult heart transplant patients.
For more information on the AHN Cardiovascular Institute, visit ahn.org.
###
Allegheny Health Network (http://www.AHN.org), a Highmark Health company, is an integrated healthcare delivery system serving the greater Western Pennsylvania region. Among the network's 300 clinical locations are 13 hospitals and five Health + Wellness Pavilions. AHN also is home to a comprehensive research institute; home- and community-based health services; and a group purchasing organization. The network employs more than 20,000 people and has more than 2,400 doctors on its medical staff. Established in 2013, AHN's member hospitals share legacies of charitable care that date back more than 160 years.