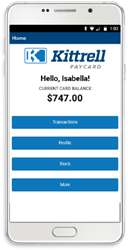 With these new, powerful digital capabilities cardholders can easily manage their money right from the palm of their hand.
BOCA RATON, Fla. (PRWEB) January 15, 2019
Cardplatforms, announced it has launched extensive, new mobile banking capabilities, through its client-branded mobile apps, to meet the demands of today's digitally savvy consumers. The mobile apps provide a completely secure portal with a broad range of features to help cardholders manage their finances and improve their financial health from anywhere.
In response to the tidal wave of demand for mobile options, Cardplatforms is providing cardholders with a seamless digital experience to satisfy their desire for more convenient choices. The apps are available for both Android and iPhone devices and include the ability to view account balances and transaction history, set up direct deposit, upload verification documents, and update cardholder profiles. With just the click of a button, cardholders can also block and unblock their card in case it is lost or stolen. Other features such as bill pay, mobile check deposit and card-to-card transfer will soon be available.
"Over 90% of our cardholders engage with us using their mobile device," commented Matt Anderton, vice president of technology, Cardplatforms. "We felt it was critical to continue to develop our Blu Box platform to include even greater mobile banking capabilities that allow cardholders to stay on the cutting-edge of technology."
"Our mission has always been to provide affordable and convenient financial services so we are constantly looking for ways to help cardholders improve their financial health," commented Jeff Foster, CEO, Cardplatforms. "With these new, powerful digital capabilities cardholders can easily manage their money right from the palm of their hand."
About Cardplatforms
Cardplatforms® delivers impactful payment solutions to underserved populations and markets, where traditional financial services have failed to provide affordable and convenient options. Leveraging a unique blend of industry expertise and proprietary technology, we design and develop white-label solutions for payroll, corporate expenses, incentives, government benefits, legal settlements and insurance claims that are specifically tailored to the needs our partners and their consumers. Our experience navigating an ever-changing payments landscape, combined with the control provided by our Blu Box™ technology platform, allows us to fully customize programs and get them launched faster. Learn more at cardplatforms.com.