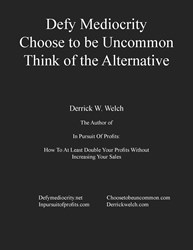 I try to help employees and managers dramatically improve their job stability and increase their chances for advancement.
Hanson, MA (PRWEB) December 16, 2013
Welch Publishing recently released a completely revised version of its best-selling ebook, "Defy Mediocrity. Choose to be Uncommon. Think of the Alternative." For the first time, the company has created an audio version of "Defy Mediocrity," and customers who purchase the audio book will receive a complimentary copy of the new ebook.
In "Defy Mediocrity," author Derrick Welch speaks directly to individuals who want to enhance their job security and careers. "I try to help employees and managers dramatically improve their job stability and increase their chances for advancement," he said.
The book is designed to provide the tools people need to be the best they can in their career and in life. Packed with over 200 pages of thought-provoking concepts, it addresses a wide variety of important issues, including:
·How to become a major impact employee.
·How to maximize the opportunities that present themselves.
·How to eliminate the fear of failure.
·What the four pillars of excellence are.
·How to produce results instead of creating excuses.
·How to rise above mediocrity in every area of life.
·Why few things in life cannot be overcome with the right combination of attitude and commitment.
Readers are raving about "Defy Mediocrity" and how it has impacted their lives. For instance, HJC America President George Hong said: "I think this book should be mandatory in all business schools. It is a book for everyone that desires to improve their career as well as their life in general. This is a fabulous book! I have read it numerous times and now have heard it on CD for the 3rd time…I am going to require that all my employees read it." Bryce Jeon of Seoul Korea commented: "The invaluable advice in your book has changed my life during the last few months and gave me a vision to know how to plan and manage my life and my future. Thank you, Derrick. You are a mentor in my life." And Pat Garufi simply said, "I think you have created another Masterpiece."
When Welch discusses the corporate world in "Defy Mediocrity," he speaks directly from the heart—and from a wealth of experience. He has spent three decades in senior management positions with both large and small companies and is excited to share his expertise through the printed and spoken word. In addition, to writing Defy Mediocrity, Welch is also the author of "In Pursuit of Profits: How To at Least Double Your Profits without Increasing Your Sales."
For more information or to download two chapters of "Defy Mediocrity" at no cost, please visit http://www.defymediocrity.net.
About Derrick Welch
Derrick Welch is passionate about helping people improve their business and advance in their careers. He has spent more than 30 years in senior management positions, developing his expertise in operations, administration, production and marketing. Welch has a track record of achieving impressive results in the corporate world. He previously served as vice president of a major Boston-based advertising agency at the age of 27, as well as chief operating officer and vice president of operations of a nationwide multi-million-dollar company when he was just 31. Welch has poured the time-tested strategies he learned in the trenches into Welch Publishing and two insightful books, which are impacting the lives of business owners and employees worldwide.