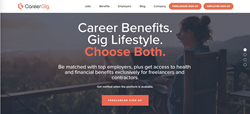 "CareerGig is committed to offering the flexibility of self-employment with the stability of insurance and benefits," Greg Kihlström, CEO.
ARLINGTON, Va. (PRWEB) July 20, 2020
As the U.S. unemployment rate remains high, CareerGig, an online SaaS-based platform launched today offering affordable insurance for freelancers. The platform also provides access to available freelance gigs and contract projects at top companies looking for candidates. On the hiring end, companies that sign up for the service will have access to state of the art verification services and immediate access to ready talent, reducing valuable internal time and resources, and can provide their 1099 workers with benefits through the platform.
Tailored especially for freelancers and contractors, CareerGig's robust menu of offerings include health, dental, vision, life and disability insurance, and health service accounts (HSAs). CareerGig also offers supplemental benefits such as accident, critical illness, and pet insurance. All offerings are outlined and available through the company website at careergig.com.
Human resource professionals within companies are able to access CareerGig's streamlined and secure verification process allowing for multiple assessments and background checks, saving time and internal resources. Built with blockchain, artificial intelligence, and other technologies, CareerGig provides companies the security and peace of mind when hiring candidates.
In addition to verification services, companies that hire through the platform would also be able to offer their 1099 workers insurance and benefits through CareerGig.
"Research shows that 36% of Americans are already part of the gig economy and 90% are open to joining; but the biggest concerns being the lack of access to health and financial safety nets. At CareerGig, we understand those concerns and are building a company committed to offering the flexibility of self-employment with the stability of insurance and benefits," said Greg Kihlström, CEO and Co-Founder of CareerGig. "What's more, our core philosophy of trust and validation using the best available technologies means that our platform is built with our customer's data privacy and best interests in mind from the start."
###
ABOUT CAREERGIG
Career benefits. Gig lifestyle. Choose both. CareerGig is a SaaS technology platform and ecosystem that matches freelance and contract workers to top employers, and with independent access to health and financial benefits exclusively tailored for those in the gig economy. Powered by blockchain and AI technology, CareerGig also provides employers the ability to hire qualified and verified talent through an accelerated and scalable state-of-the-art process. CareerGig helps individuals create freelance careers, and makes life easier and more secure for companies that hire them. Contact us at careergig.com