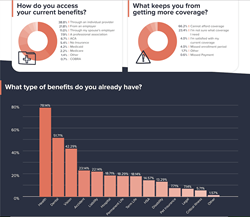 "As a freelancer-first community, we understand how important it is that freelancers and their families have the financial stability, security, and safety nets they need to thrive as a member of the growing agile workforce."
ARLINGTON, Va. (PRWEB) February 09, 2021
CareerGig announced the release of a timely and relevant new report entitled "Freelancers and the Benefits Gap: 2021" which comprises research done with active freelancers and their insurance coverage.
Gaps were identified in three primary areas:
Affordability: The primary reason freelancers don't have better access to benefits and insurance is the ability to purchase it at a reasonable price. This is often due to the fact that freelancers cannot participate in group buying plans available only to full-time employees, and going direct to insurance providers is cost prohibitive.
Education: Over 23% of respondents said they were unsure of the coverage they need for themselves and their dependents. Independent workers often lack resources for financial education that are provided to full-time employees, and freelancers often juggle many responsibilities, making it difficult to gain enough knowledge to understand where their insurance coverage gaps may fall.
Access: Many freelancers (32.8% according to our respondents) get coverage through a spouse or partner, or even an employer if they freelance part-time on top of a full-time job. The rest, however, must rely either on government programs for health insurance, or going directly to providers for other types of coverage. Another hurdle may be the many types of insurance difficult for freelancers to obtain because of pre-existing conditions, or unaffordable premiums.
"As a freelancer-first community, we understand how important it is that freelancers and their families have the financial stability, security, and safety nets they need to thrive as a member of the growing agile workforce," said Greg Kihlstrom, CEO and Co-Founder of CareerGig. "In highlighting the gap between the health, life, disability, and other insurance coverage freelancers currently have, and what they need to get through unexpected situations, the vital role of CareerGig and the freelancer benefits we offer to this important and growing part of the workforce is strongly underscored."
CareerGig is an online SaaS-based marketplace platform providing freelancers access to available gigs and contract projects at top companies looking for candidates. This community marketplace offers 1099 workers a robust menu of tailored-for-freelancer offerings of health, dental, vision, life and disability insurance, among a selection of other benefits at no cost to the companies hiring them. Many of these benefits offerings are guaranteed-issue for qualified freelancers, and a portion of transaction fees are also provided as contributions towards insurance premiums, further helping affordability.
###
ABOUT CAREERGIG
Career benefits. Gig lifestyle. Choose both. CareerGig is a SaaS technology platform and ecosystem that matches freelance and contract workers to top employers, and with independent access to health and financial benefits exclusively tailored for those in the gig economy. Incorporating blockchain and AI technology, CareerGig also provides employers the ability to hire qualified and verified talent through an accelerated and scalable state-of-the-art process. CareerGig helps individuals create freelance careers, and makes life easier and more secure for companies that hire them. Learn more at http://www.careergig.com