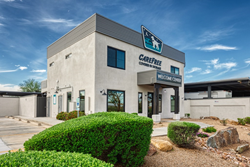 PHOENIX (PRWEB) September 22, 2020
Carefree Covered RV Storage announced the launch of a new full-service website Thursday and expansion plans that include the pending acquisition of a second location in Arizona.
"We've invested time in developing our brand experience," president Barry Raber said. "We want our customers to know we understand what's important to them and have them see us as a resource whether they're visiting online or in person."
CarefreeCoveredRVStorage.com features storage tips, destination guides and local RV resources in addition to online reservations and leasing of spaces. The brand is building a robust social media presence where customers will find additional resources and places for its community to share recreational experiences.
The company also is in contract to purchase its second location in the Phoenix metro area. Property specifics will be released when the transaction is complete. The new property will include amenities including a Welcome Center with Wi-Fi, remote-controlled gate access, high-definition security cameras, dump-station, wand-bay RV wash, ice machine, power at every space, and more.
"Customer response has been overwhelmingly positive and we're connecting with what they want. We are eager to build out this side of our business," Raber added.
Carefree Covered RV Storage is a division of Portland-based Business Property Trust, which offers open-air RV storage at several of its locations through its other division, Bargain Storage. The company launched Carefree Covered RV Storage in September 2019 after purchasing its flagship location in Apache Junction, Arizona.
Carefree Covered RV Storage now has a 5-star rating on Google with over 50 reviews and an A rating with the Better Business Bureau.
The company is seeking additional all-RV storage properties to expand its brand. Contact Raber directly for more information or to suggest business opportunities.
Business Property Trust, LLC, is a niche real estate investment firm located in Portland, Oregon. The company, founded in 1999, purchases and operates self-storage through its Bargain Storage brand and covered recreational vehicle parking through Carefree Covered RV Storage.