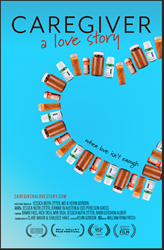 Dr. Zitter's work with this film is so powerful, and Bambi and Rick Fass are both candid and inspiring. We hope clinicians take the opportunity to watch the film.
TAMPA, Fla. (PRWEB) January 20, 2021
Caregiver: A Love Story is a new documentary film by Dr. Jessica Zitter, is shining a light on the challenges caregivers face when caring for loved ones. Healthcare providers and content providers can view the film at no cost on Docola's care communication platform from January 23rd through the 26th. They can also attend a live Q&A session with Dr. Zitter on January 26th at 8pm/ET 5pm/PT.
This 24 minute documentary shows what's hidden in plain sight — the physical, emotional, and financial toll caregiving takes. Bambi Fass and her husband Rick take us through the joys and sorrows, and help us ask: how we might better care for family caregivers so they don't become second order patients?
The event is supported by four organizations who are focused on improving healthcare for patients and families. Eran Kabakov, Chief Executive Officer of Docola, says: "We are thrilled to host this event. I've experienced the difficulties of caregiving on a personal level as well as a healthcare provider. Dr. Zitter's work with this film is so powerful, and Bambi and Rick Fass are both candid and inspiring. We hope clinicians take the opportunity to watch the film and join the Q&A session to learn more about the challenge family caregivers face."
About Dr. Jessica Zitter, Director
Dr. Zitter is Harvard and UCSF-trained to practice the unusual combination of Critical and Palliative Care medicine. She works as an Attending Physician at a public hospital in Oakland, California. Dr. Zitter's work is featured in the Oscar and Emmy-nominated Netflix documentary, Extremis. And she is the author of Extreme Measures: Finding a Better Path to the End of Life.
About The Event Sponsors
Docola
Docola believes healthcare is built on trusted relationships and meaningful conversations between providers, patients and families. The Docola care communication platform optimizes and democratizes these interactions, making it easy to e-prescribe information to patients from a high-quality patient education community marketplace. Healthcare providers can find a wide array of patient education resources, easily develop and upload their own videos and resources, create courses, and e-prescribe these to patients and populations. This also makes it possible to track patient participation, comprehension, or to learn about patients' goals, values and preferences. The platform is freely available to healthcare providers, patients, and content providers. For more information, visit https://www.doco.la or follow the company on Twitter @docolainc.
Greater National Advocates
Our mission is to wake up the nation to the lifesaving benefits of Independent Patient Advocacy and provide patients and loved ones with immediate online access to a trusted network of qualified practitioners. We use fact-based media to spread awareness and steer patients and their loved ones to https://www.GNANOW.org where they can learn more about Independent Patient Advocacy and find the professional support they need.
Resolution Care Network
We work with your existing medical team and caregivers to provide an extra layer of human-centered support when you or your loved ones are facing serious illness. To learn more visit: https://www.resolutioncare.com/
Active Daily Living™
A comprehensive web-based content platform that features interactive assessments, videos and personalized content that gives clients the ability to assist older adults and family caregivers with functional issues, environmental challenges and health related concerns. It utilizes evidenced-based / supported customized content to support population health, social determinants of health, caregiver satisfaction, risk management and the positioning of senior related programs and services. To learn more visit: https://www.activedailyliving.com/