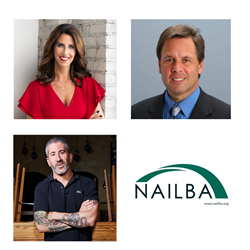 FAIRFAX, Va. (PRWEB) October 08, 2020
The National Association of Independent Life Brokerage Agencies (NAILBA) today revealed that Carey Lohrenz, Kevin Elko, and Michael Solomonov will be three of the keynote speakers at NAILBA 39: Engage. The association recently announced that the event will be a virtual experience, featuring both live and OnDemand content over a three-month period.
Lohrenz, sponsored by Nationwide, is a former U.S. Navy lieutenant and was the Navy's first female F-14 Tomcat fighter pilot. She will be the keynote speaker on November 19, the first day of Engage. Lohrenz is a Board Leadership Fellow for the National Association of Corporate Directors, and is author of the Wall Street Journal Bestseller, Fearless Leadership: High-Performance Lessons from the Flight Deck. "We are honored to present Carey Lohrenz as NAILBA 39's kickoff keynote," said Jon Forbes, VP of Nationwide Financial Strategic Account Management. "She exudes the qualities of leaders we celebrate —resilience, focus, determination, and a commitment to excellence. We are excited for her to inspire this year's attendees as she shares her lessons learned to lean into ever changing environments, focus on your end mission and make sound decisions quickly to achieve the desired outcome."
Elko, sponsored by Lincoln Financial Group, is a celebrated speaker on leadership and goal-setting, and is the author of four books: Nerves of Steel, The Pep Talk, True Greatness: Mastering the Inner game of Business Success, and Touchdown: Achieving Your Greatness on the Playing Field of Business and Life. He will be Engage's featured keynote on November 24.
"Dr. Elko has decades of experience helping people realize their potential. He's a perfect fit for the NAILBA community," said Andrew Bucklee, Lincoln Senior Vice President and Head of Life and Executive Benefits Distribution. "His insights on strategic vision, developing people, and building culture help put agents in the right mindset and build confidence they can reinforce with their clients as we adjust to a new reality."
Solomonov, sponsored by Pacific Life, is a renowned chef, entrepreneur, and humanitarian. He will keynote the esteemed Douglas Mooers Dinner, in honor of NAILBA's founding chairman, Douglas H. Mooers, on December 17. Known for his Philadelphia restaurant, Zahav, Solomonov won the James Beard Foundation awards for Best Chef: Mid-Atlantic in 2011, Cookbook of the Year in 2016, and Outstanding Chef in 2017. The Douglas Mooers Dinner serves to honor the winner of the annual Douglas Mooers Award for Excellence, bestowed upon the individual most committed to furthering brokerage and independent life brokerage as a distribution system.
"We look forward to learning a thing or two from Michael during the Mooers Dinner. Not only is he a force in the kitchen, but his focus on giving back to those less fortunate is commendable," said Mark Pellicano, Vice President, Financial Advisory Network Distribution at Pacific Life.
The NAILBA 39: Engage schedule is as follows:

November 19, 2020: Life Insurance
November 24, 2020: Long-Term Care Insurance & AG 49A
December 16, 2020: Future Forward
December 17, 2020: A Night with NAILBA (Members Only)
January 13, 2021: Life & Disability Insurance
January 27, 2021: Annuities
February 10, 2021: Life Insurance & Insurance Innovation
February 24, 2021: Insurance Innovation 2.0 & Life Settlements
Learn more about NAILBA 39: Engage, including exhibit and sponsorship information, at https://nailba.memberclicks.net/nailba-39-engage.
##
About NAILBA
The National Association of Independent Life Brokerage Agencies (NAILBA) is the premiere insurance industry organization promoting financial security and consumer choice through the use of independent brokerage distribution. NAILBA serves as the national association of life, health and annuity insurance distributors. For more information visit http://www.nailba.org.