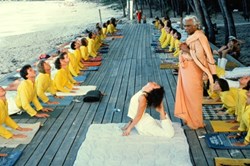 This Yoga Vacation program left me refreshed and recharged with energy.
New York, NY (PRWEB) August 18, 2013
The program, which is offered August 19th-22th and September 20 - 22, 2013 in Nassau, Bahamas, offers an opportunity to learn intricate advanced asanas and receive the guidance which will assist the student to turn such postures into a steady and comfortable practice. In order to allow longer and steadier holding of the postures, visualization, meditation and positive thinking will also be taught and practiced.
This course is part of the Yoga Vacations Program.
At any time of the year, the ashram welcomes visitors to come and enjoy a program rich with lectures by world renowned speakers, daily Yoga classes, delicious vegetarian meals, snorkeling, and plenty of time to relax in a tropical paradise. Visitors to the Retreat can choose from a variety of lodging options to suit their personal needs while enjoying all the learning opportunities available at the ashram.
The Yoga Retreat is located across the bay from Nassau, Bahamas, on one of the finest beaches in the world. It is truly an island paradise and a sanctuary of peace and natural beauty. With its pristine white sand beaches, crystal blue waters and five and a half acres of lush tropical gardens, the Yoga Retreat provides the ideal environment for practice, rest and rejuvenation. With its celebrated lineage of Yogic Masters, the Yoga Retreat offers a rare combination of a traditional ashram with the feel of a Caribbean resort.
Based on five simple principles, the Yoga Vacation Program offers an ideal way to take a break from your everyday life. Whether students are new to Yoga or a well-established practitioner, a Yoga Vacation will help students quickly find your way back to balance. Return home more peaceful, energized and better able to joyfully carry on with the daily routine.
For more information, please visit http://www.sivanandabahamas.org. The Yoga retreat also offers Ayurvedic Yoga training as well as a variety of meditation courses.