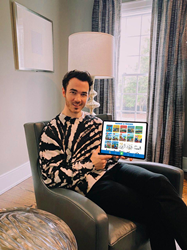 "As a dad of two girls, I have loved using Caribu to connect with them when I couldn't be home to read bedtime stories in-person," said Jonas.
SAN MARCOS, Calif. (PRWEB) May 05, 2020
Caribu, the activity-based video-calling app, is excited to announce it has brought on multi-platinum recording artist and mobile app entrepreneur Kevin Jonas as a strategic partner and investor for the rapidly growing brand. The app makes it easier for kids to stay engaged while video-chatting with an in-app library full of fun games, coloring sheets, activities, books, and read alouds.
"We are thrilled to have Kevin on board. Many people don't know this, but he's very well acquainted with the tech and social networking worlds through his own startups and passion projects," said Caribu CEO and Co-Founder Max Tuchman. "Kevin started using Caribu to read to his young girls when he was on tour and quickly saw how helpful our technology could be to other musicians and parents, like him, who were constantly on the road. We're fortunate to have someone with his background and influence helping us get Caribu into the hands of kids and families that need more engaging ways to stay connected right now!"
UTA brokered the deal on behalf of Jonas, whose tech development resume includes being co-CEO of the communications and social media strategy brand The Blu Market and partnering with the social network We Heart It.
"As a dad of two girls, I have loved using Caribu to connect with them when I couldn't be home to read bedtime stories in-person," said Jonas. "I'm excited to be able to use my previous experiences on the mobile front to spread the word and help more families stay close when they can't physically be together."
To kick off the partnership, Caribu is excited to announce an exclusive collection of Thomas & Friends™ filters, books, stickers, coloring pages, and more alongside a new Read Aloud series with Jonas each week for the entire month of May, in honor of the beloved train's 75th anniversary.
Helps kids create meaningful connections with relatives and friends anywhere in the world
Named one of TIME Magazine's Top 100 Best Inventions
Uses fun books and activities to help kids stay focused and engaged while video-chatting
Includes over 1000+ titles (and growing) from leading children's publishers like Highlights, Mattel, Usborne, Baby Einstein and more
Features fun games, educational activities, and coloring pages
Books available in 8 languages
Users in 160+ countries
Available on iOS and Android smartphones and tablets
AT&T is sponsoring FREE unlimited access now through May 24th!
Visit caribu.com now to download the app and enjoy FREE access to "educational screen time" activities during the COVID-19 Pandemic or check out their Facebook Page to learn more.
For media inquiries or interview requests, Leah@teamchicexecs.com.
About‌ ‌Caribu‌ ‌
Caribu‌ ‌helps‌ ‌parents‌ ‌and‌ ‌grandparents‌ ‌to‌ ‌read,‌ ‌draw,‌ cook a recipe, enjoy an art activity, ‌and play‌ ‌games‌ ‌with‌ ‌their (grand)children,‌ ‌in‌ ‌an‌ ‌interactive‌ ‌video-call,‌ ‌from‌ ‌anywhere‌ ‌in‌ ‌the‌ ‌world.‌ ‌The‌ ‌result‌ ‌is‌ ‌an‌ ‌engaging‌ child-friendly shared‌ ‌screen‌ ‌experience‌ ‌that‌ ‌is‌ elegantly ‌designed,‌ ‌carefully‌ ‌curated,‌ ‌and‌ ‌secure.‌ Caribu contains an‌ ‌in-app‌ ‌library‌ ‌filled‌ ‌with‌ ‌1000+‌ ‌titles‌ ‌from‌ ‌leading‌ ‌children's‌ ‌publishers,‌ ‌in‌ ‌eight‌ ‌languages,‌ ‌and‌ ‌coloring‌ ‌activities‌ ‌that‌ ‌can‌ ‌be‌ ‌drawn‌ ‌on‌ ‌simultaneously.‌ ‌The‌ ‌company‌ has users ‌in‌ ‌160+‌ ‌countries,‌ ‌has‌ ‌won‌ ‌numerous‌ ‌international‌ ‌and‌ ‌national‌ ‌awards‌ ‌such‌ ‌as‌ ‌being‌ ‌named‌ ‌one‌ ‌of‌ ‌TIME‌ ‌Magazine's‌ ‌Best‌ ‌Inventions‌,‌ ‌and‌ ‌is‌ ‌backed‌ ‌by‌ ‌celebrity‌ ‌investors‌ ‌and‌ ‌great‌ ‌partners‌ ‌such‌ ‌as‌ ‌AT&T,‌ ‌Revolution's‌ ‌Rise‌ ‌of‌ ‌the‌ ‌Rest‌ ‌Seed‌ ‌Fund,‌ ‌and‌ ‌Toyota.‌ ‌Through‌ ‌a‌ ‌partnership‌ ‌with‌ ‌Blue‌ ‌Star‌ ‌Families,‌ ‌Caribu‌ donates free subscriptions to ‌all‌ ‌currently‌ ‌serving‌ ‌U.S.‌ ‌military.‌ ‌For‌ ‌more‌ ‌information,‌ ‌visit:‌ ‌‌http://www.caribu.c‌om‌