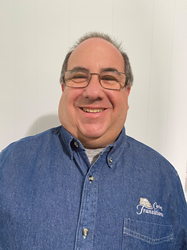 Caring Transitions is here to help relieve the burden and stress of transitioning by providing end-to-end solutions. This franchise has a reputation for quality and compassion, which our clients can continue to expect from me and my team. -Gary Henry
CHAGRIN FALLS, Ohio (PRWEB) May 10, 2021
Caring Transitions of the CCV, the professional relocation and estate clearing company focused on seniors and families, is under new ownership. Gary Henry, a life-long Cleveland-area resident officially took over the business on May 1, 2021.
Caring Transitions' specially-trained professionals handle every detail for their clients' transitions, including decluttering, organizing, packing, move management, unpacking and resettling, cleanouts, and both in-home and online estate sales. Caring Transitions of the CCV serves clients in Solon, Chagrin Falls, Hudson, Twinsburg, Aurora, Bainbridge, Cuyahoga Valley, Chagrin Valley, Fairlawn, Bath, Brecksville and the surrounding areas.
"I've been working in management for the same landscaping company for the last 30 years and, as I started thinking about transitioning into retirement in the future, I realized I was ready for something new. When I saw that Caring Transitions was for sale, something clicked for me. I'm a sentimental person and I've always loved spending time with older people and listening to their stories. Caring Transitions gives me an opportunity to help preserve those stories by compassionately helping seniors and families transition, downsize, relocate and more," Gary said.
Caring Transitions' services are perfect for managing the many aspects of a senior move or with those who are in the process of downsizing. They also help busy families with clearing out the home of a loved one who has moved into assisted care or has passed away. All of Caring Transitions' services are customizable, so clients choose the solution that best fits their needs.
"Caring Transitions is here to help relieve the burden and stress of transitioning by providing end-to-end solutions. This franchise has a reputation for quality and compassion, which our clients can continue to expect from me and my team," Gary said.
Caring Transitions of the CCV is completely bonded and insured and all employees have passed a thorough background check. For additional information, call 330-591-9716, email ghenry@caringtransitions.com or visit http://www.caringtransitionsccv.com.