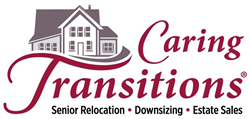 "We are thrilled to see Caring Transitions on this competitive list," said Ray Fabik, Caring Transitions President. "We added 31 locations in 2020 and were able to show why this kind of service really is essential. We hope to see that kind of success carry into 2021!"
CINCINNATI (PRWEB) January 28, 2021
Caring Transitions, a company specializing in senior relocation and transition services, recently ranked in Entrepreneur magazine's Franchise 500®, the world's first, best and most comprehensive franchise ranking. Placement in the Franchise 500® is a highly sought-after honor in the franchise industry making it one of the company's most competitive rankings ever.
Caring Transitions is listed at 497 after a successful 2020 which saw the company grow and set revenue records, while adapting to meet the challenges associated with COVID-19.
"We are thrilled to see Caring Transitions on this competitive list," said Ray Fabik, Caring Transitions President. "We added 31 locations in 2020 and were able to show why this kind of service really is essential. We hope to see that kind of success carry into 2021!"
Caring Transitions is one of the only relocation brands in the country and features multiple revenue streams for investors. CTBIDs is a one-of-a-kind auction website which serves as an online estate sale for Caring Transitions' clients and proved invaluable during the pandemic which made estate sales nearly impossible. Revenue for CTBIDs increased by 300 percent in 2020.
"2020 was a challenging year for everyone, but it was also a year of unusual opportunity," says Jason Feifer, Entrepreneur editor-in-chief. "Franchises were able to be nimble and innovative, serving the needs of franchisees and customers in ways that will resonate for many years to come. We believe that, when we eventually look back on this time, we'll see it as a moment when many brands defined themselves for the future."
In Entrepreneur's continuing effort to best understand and evaluate the ever-changing franchise marketplace, the company's 42-year-old ranking formula continues to evolve as well. Each franchise is given a cumulative score based on an analysis of more than 150 data points, and the 500 franchises with the highest cumulative scores become the Franchise 500® in ranking order.
Over its 42 years in existence, the Franchise 500® has become both a dominant competitive measure for franchisors and a primary research tool for potential franchisees. Caring Transition's position on the ranking is a testament to its strength as a franchise opportunity.
To view Caring Transitions in the full ranking, visit http://www.entrepreneur.com/franchise500. Results can also be seen in the January/February 2021 issue of Entrepreneur, available on newsstands January 26th.
About Caring Transitions
Founded in 2006, Caring Transitions, is the most trusted and experienced national franchise specializing in senior relocation and transition services. With more than 200 locations throughout the United States all owned and operated by Certified Relocation and Transition Specialists, Caring Transitions provides clients with supportive moves, auctions, rightsizing and transitions.
This includes expert advice plus a well-executed transition plan beginning with the initial sorting of personal belongings through packing, unpacking, resettling, selling of items to the final clearing and cleaning of the property. For more information, visit http://www.caringtransitions.com.
About Entrepreneur Magazine
Entrepreneur Magazine is a national business publication based in Irvine, California. For nearly 40 years, Entrepreneur has been the definitive guide to all the diverse challenges of business ownership.
Published 12 times a year, the magazine is available by subscription and on newsstands in the United States and Canada, both in print and now a mobile app.