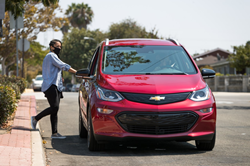 NASHVILLE, Tenn. (PRWEB) January 20, 2021
Carl Black Nashville, a Nashville Chevrolet dealership, is currently advertising that eligible GM cardmembers can earn $1,000 in bonus earnings to be used towards the purchase or lease of an eligible Chevrolet vehicle during the months of January and February 2021. Eligible cardmembers are those who have been a GM Rewards Cardmember as of Jan 4, 2021. The bonus earnings can be used towards eligible new 2020 and 2021 models of GM vehicles including Chevrolet vehicles. The exception is the 2021 Chevrolet Corvette which is not available with this special offer.
Bonus earnings expire on March 1, 2021, which means that eligible cardmembers have two months to take advantage of this temporary offer. This offer can't be combined with certain other offers from GM and Chevrolet. It is also a nontransferable offer, which means that the eligible cardmember can't give their earnings to another person. Bonus earnings of $1,000 can be earned per account.
To learn more about this offer and other special offers at Carl Black Nashville, drivers are encouraged to check out the dealership's website, carlblackchevy.com. The website's home page shows some special offers and allows drivers to apply for a special offer using a popup form. The dealership also has a "Specials" drop-down menu at the top of its website where drivers can find "New Vehicle Specials," "Used Vehicle Specials," "National Offers" and "Service Specials." The bonus earnings special offer can be located with the "Specials" button in the bottom right corner of the website. Drivers are encouraged to check out other special offers before making their purchase.