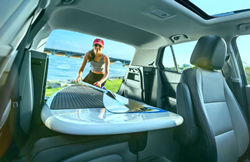 NASHVILLE, Tenn. (PRWEB) April 05, 2021
Carl Black Nashville, a Chevrolet dealership, is currently offering up to 17% cash back on select new Chevrolet models during April 2021. This temporary offer can save drivers hundreds of dollars when they purchase a new Chevrolet model. New retail delivery must be taken by May 3rd, 2021 in order for drivers to take advantage of this offer.
Drivers can get cash back on a variety of Chevrolet vehicles, but some vehicles are excluded. Base trim levels are excluded on the 2020 and 2021 models of the Chevrolet Bolt EV, Chevrolet Camaro, Chevrolet Corvette, Chevrolet Spark, Chevrolet Sonic, Chevrolet Impala, Chevrolet Tahoe, Chevrolet Suburban, Chevrolet Silverado LD, Chevrolet Colorado and Chevrolet Silverado HD. Higher trim levels of these models might be eligible for this cash back offer.
The dealership highlights five models available with this deal on their website, carlblackchevy.com. On the homepage, drivers can view five special offers, including those for the 2021 Chevrolet Trailblazer, 2021 Chevrolet Equinox, 2021 Chevrolet Traverse, 2021 Chevrolet Blazer and 2021 Chevrolet Trax. The 2021 Chevrolet Trax offers the highest percent cash back offer with up to 17% cash back of the MSRP (Manufacturer's Suggested Retail Price).
Drivers who are interested in purchasing a discounted vehicle are encouraged to check out the dealership's website. Other than viewing special offers, the site can be used to view new vehicle inventory, vehicle detail pages, financing information, model research and much more. It also provides customers with contact information, directions to the dealership and dealership hours.