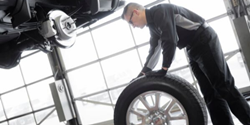 ORLANDO, Fla. (PRWEB) August 13, 2019
Car owners in the Orlando area will find that the Carl Black of Orlando service center is the best spot for servicing and repairing their vehicles. The state-of-the-art service center is staffed by certified and highly trained technicians who dedicate themselves to making sure every vehicle drives off the lot in the best condition possible.
The service team prioritizes getting vehicles serviced and back on the road in a timely manner. The Carl Black of Orlando team performs routine maintenance such as oil changes, tire rotations, brake repairs and transmission flushes, as well as cosmetic repairs and more in-depth services. The Orlando dealership regularly updates service specials and offers service coupons to help drivers save money on routine maintenance.
In addition to the service center, Carl Black of Orlando offers genuine OEM parts for those looking to do any repairs themselves. The service team ensures the parts center is always fully stocked so shoppers never need to look any further than Carl Black of Orlando. Vehicle parts can also be ordered online and shipped directly to buyers to keep the ordering process as seamless as possible.
Those looking to book a service appointment with Carl Black of Orlando or learn more about the service department can do so by visiting the service page on the dealership's website, https://www.carlblackoforlando.com, or by contacting a member of the service team by phone, 888-449-6517. Interested customers can also find service specials and coupons on the Carl Black of Orlando service page.
The Carl Black of Orlando service center and parts department are open six days a week from 7:30 a.m. - 6 p.m. Monday through Saturday. The Orlando-area dealership is located at 11500 East Colonial Drive, Orlando, FL 32817.