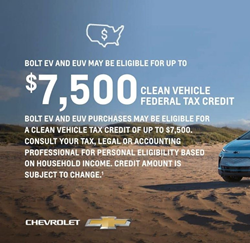 ORLANDO, Fla. (PRWEB) January 09, 2023
Carl Black Orlando offers drivers electric vehicles such as the Chevrolet Bolt EV and the Chevrolet Bolt EUV. Electric vehicles may be eligible for a $7,500 federal tax credit called the Clean Vehicle Federal Tax Credit. This tax credit incentivizes drivers to switch to electric vehicles, which give off fewer emissions and help protect the environment.  
In order to qualify for the federal tax credit, a few factors must be in place. The vehicle must qualify as a New Clean Vehicle under the Clean Vehicle Credit. The driver's gross income must not exceed the income thresholds set for the tax credit. Drivers should consult their tax, legal or accounting professional for personal eligibility information based on income. 
The Chevrolet Bolt EV is an electric car with a starting MSRP of $25,600 for the 2023 model year. On a full charge, this electric vehicle can drive up to 259 miles in one go. The Chevrolet Botl EUV has a starting MSRP of $27,200 for the 2023 model year. It's an Electric Utility Vehicle (EUV) with a cargo space of up to 56.9 cubic feet. This model can drive up to 247 miles with a full charge. There are over 40,000 public charging stations for Bolt EV and Bolt EUV drivers to use, and more are always being created. 
Individuals who are interested in a new electric vehicle can visit the dealership's website,carlblackoforlando.com, to learn more, to view available inventory and to make an appointment at Carl Black Orlando.