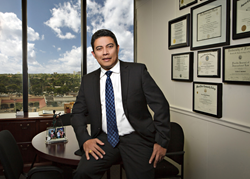 Hollywood, FL (PRWEB) August 10, 2017
On August 2, 2017, President Trump unveiled the Reforming American Immigration for a Strong Economy (RAISE) Act, a so-called "merit-based" immigration system aimed at protecting the U.S. economy, taxpayers, and American workers. If passed, the RAISE Act would screen visa applicants using a point system based on a person's age, education, English ability, job offer salary, investments and more. Applicants would need at least 30 points to be eligible to apply for a visa under the proposal.
"This act would effectively cut legal immigration levels in half over the next decade," said immigration attorney Carlos E. Sandoval, founder of Carlos E. Sandoval, P.A. "Although this bill has not passed yet, Trump is making it very clear that immigration reform is at the top of his list; and not just illegal immigration, but legal immigration as well."
If the RAISE Act passes, it would pave the way for an enormous shift in U.S. immigration law, which historically has encouraged immigrants to come here for work or to join family members that already reside in the country. It would also reform the way extended family members of U.S. citizens obtain green cards by giving those with work-based skills top priority. Furthermore, it would remove the ability of U.S. citizens to petition for their parents, siblings and adult children. Similarly, legal permanent residents may not be able to petition for theirs spouses and children.
"If you have relatives, such as siblings or adult children, that you want to petition, petition for them now, as these classifications will be removed if the bill is successful in Congress," concluded Sandoval.
About Carlos E. Sandoval, Attorney at Law
Carlos E. Sandoval is a member of the Florida Bar, the American Immigration Lawyers Association, the Broward County Hispanic Bar Association and the Broward County Bar Association. Carlos, who speaks fluent English and Spanish, is licensed to practice law by the Florida Supreme Court and the Federal Court for the Southern District of Florida. He focuses his practice in all areas of immigration, naturalization and removal. For more information or a consultation, call (954) 306-6921, or visit http://www.carlosesandoval.com. The law office is located at 450 N. Park Road, Suite 803, Hollywood, FL 33021.
About the NALA™
The NALA offers small and medium-sized businesses effective ways to reach customers through new media. As a single-agency source, the NALA helps businesses flourish in their local community. The NALA's mission is to promote a business' relevant and newsworthy events and achievements, both online and through traditional media. The information and content in this article are not in conjunction with the views of the NALA. For media inquiries, please call 805.650.6121, ext. 361.