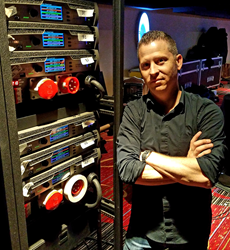 This is a very busy venue. Shutting down the room to conduct the install was not a possibility.
NEW YORK (PRWEB) September 13, 2018
Carlson Audio Visual, LLC is the preferred Audio-Visual & Production Partner of the Marriott Marquis New York. Over the last 12 months, CAV's Operations Division re-engineered both the infrastructure and production capabilities of the hotel's Broadway Ballroom. From newly installed and certified rigging points, to the addition of high-end video equipment and creative lighting fixtures, the Broadway Ballroom's most recent upgrades captured the serious attention of end-clients and third-party event planners. However, the biggest question mark centered around a real need to upgrade the Ballroom's sound reinforcement. In the past, CAV's Audio Department supplemented gear when necessary to facilitate client requests but, the solutions were never permanent – until now.
CAV's Director of Production, Phil Robinson, helps explain.
Where did the need for a new system come from?
With its rich history over the last 30+ years, the Broadway Ballroom at Marriott Marquis NY is one of the best spaces I have ever worked in. It's almost "alive" in a sense and rarely receives any time for rest or re-design. It's known for having one of the largest hotel stages in the New York. With Broadway literally at our doorsteps, the space attracts an incredible variety of high level entertainment from theatrical to musical performances.We also see a dynamic range of corporate meetings and events. With our previous audio system becoming more and more outdated, we needed the design to be as versatile as the room itself while offering our clients the best support for any scenario or request. We tested a few different line arrays coming and going out of the space over the years and we researched several more.
In terms of equipment selection, what decision was made for the space?
We decided on JBL's Pro VTX V20 Line Array System. It can virtually be as loud or as "quiet" as you'd like. Our set up includes (18) JBL VTX V20 Line Array Speakers (-9- per side), (6) JBL VTX G28 Subwoofers (-3- per side set cardioid), (6) JBL AC 28/26 for Front Fills, and JBL VTX F12's to fill in the gaps. We have Crown V-Racks and a Meyer Galileo Galaxy 816AES to drive it all. At FOH we're running either a Yamaha CL5 or PM5D.
How long did the design process take?
A full 8 months. This is a very busy venue. Shutting down the room to conduct the install was not a possibility. With careful planning, we were able to work around hotel business levels and achieve our target date of September 1st.
Including you, whom else was involved?
For the design, I recruited the assistance of our long time A1, John Bucher. We spent the better half of the year hashing out every detail with consideration of how we should service each of our productions moving forward. When it came time to install, we were able to handle it all internally with our audio and rigging crews. The system was tuned with the assistance of Raul Gonzales, Product and Application Senior Specialist, Touring Audio and Live Production Systems at Harmon.
For clients and/or venue partners, what are the biggest differences they can expect between the old
and new system?
With the upgrade there are many noticeable differences between the previous system (JBL Vertec) and the new. The coverage in the space has improved dramatically. The ballroom has just over 28,000 sq.ft. that can seat more than 2,500 people in a theater style set and up 2,800 people for a reception. Other differences include all of the I/O now digitally integrated with control access via Wi-Fi networking. We've racked two dozen RF channels, communication lines, and pre built a monitor world package with speakers, console, and I/O - all roll-able and ready.
At busier venues, set-up and rehearsal times for musical performances and/or entertainment in general are viewed as a luxury and the . With the new system now in place, what can talent and their crew members expect when they arrive?
When it comes to music and entertainment, I'd like to think of this space as a rock venue inside of a hotel. Coming from a background as a touring musician, I was drawn to places like New York's own Roseland Ballroom, The Metro in Chicago, and The Hollywood Palladium. Big open spaces with a good size stage. Because we have more lighting and audio in place than most mid-sized venues in NYC, it dramatically cuts down on load-in and setup allowing more time for rehearsals. In addition to the sound system, we have also made significant updates to lighting, video, and rigging. Our space is outfitted with (6) fully functional lines of electrics that include 50+ Lekos, a dozen Varilite 4k spot fixtures, a dozen Clay Paky Sharpy wash fixtures, 8 Mac Auras, and 24-36 LED pars. There is also an additional scenic line upstage. All the 24 house rig points are certified 2 tons and the 18 stage points are 1.45 ton. We carry a variety of projection screens and house (3) Panasonic PT- RZ21k laser projectors.
What technical innovations or products did CAV leverage in the design to simplify both the set-up and utilization of the new system?
One of the most important pieces of gear added to the room is the Meyer Galileo Galaxy 816 AES. In conjunction with the Meyer Compass software, and when it comes to tuning the room, we now have unlimited possibilities at our fingertips.
The Broadway Ballroom at the Marriott Marquis NY has a balcony that isn't favorable with most forms of sound reinforcement, how was this managed? Was it even considered?
Every inch of the ballroom including the balcony and wings of the stage were taken into consideration during the planning phase. The balcony area in the ballroom is a challenging space. Keeping budget in mind, we utilized parts of the previous JBL Vertec system and created ground stacks to fill the front of the balcony with JBL VTX F12's to fill in the mid and rear. This resulted in a smooth, continuous audio field throughout the balcony. The wings of the stage are where our subs are located but, it's also used as a prep area for talent. We decided on a cardioid pattern for the (3) JBL VTX G28 subs per side. This enabled us to control this specific area while maximizing the output at FOH.
What have you personally taken away from this project that you'd like to share with anyone booking
their event in the space?
Like anyone in this business, I obsess over the details. And, when you get to collaborate with with some greatest audio minds in our industry, the details of this installation were really put to the test. Even with my extensive production and touring background, I felt fortunate to be involved and really enjoyed the hard work that went into completing this project. For clients, all of this was in an effort to continue our commitment of elevating their experience on-site. Through each of our audio, video, lighting, and rigging re-designs, the decisions made over the last 12 months focused primarily on their needs, expectations, and past feedback. The result is one of the best equipped event spaces in the region let alone New York City.
To learn more, contact:
CAV, Director of Production - Phil Robinson / phil(dot)robinson(at)carlsonav(dot)com
CAV, Director of Sales - Bryan Mundy / bryan(dot)mundy(at)carlsonav(dot)com