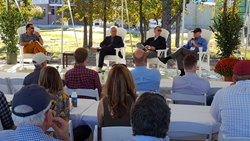 By combining new ideas with tried-and-tested old ideas, the Humphreys have made Carlton Landing a national model for walkable, green and healthy-living communities.
Carlton Landing, Okla (PRWEB) November 01, 2016
More than 60 developers, economists, municipal staff, architects and urban planners met in Carlton Landing, Oklahoma to discuss how best to create communities that are economically, socially and environmentally sustainable. Carlton Landing, a town that was created from scratch six years ago, is Oklahoma's newest incorporated town. The National Town Builders Association Fall Roundtable began in Oklahoma City on October 20 and then traveled to the picturesque Lake Eufaula town for the final two days of meetings.
Carlton Landing, often lauded for its visionary master plan created by Andres Duany, offered the NTBA attendees a chance to see a new town in its formative stages. The setting served as an example of how careful planning can deliver real-world benefits to developers and residents alike.
This event was the first time since 2008 that Andres Duany has returned to Carlton Landing. Duany, world renowned for his design of communities such as Seaside, Florida and Rosemary Beach, was impressed with the NTBA, the projects he toured, and the people he met while in Oklahoma. "Many of us enjoy hearing that the members of the NTBA are the very best in the business. I happen to agree. It is not just one more mutual admiration society." Duany stated. "This NTBA session in Oklahoma was special – not only the quality of the projects, but the people that the Humphreys introduced us to. They included whip-smart and courageous, young urban developers and the warm, smart people of Carlton Landing. Spending time with them was delightful."
"With Carlton Landing having built just over 130 homes, this was an ideal time to welcome our NTBA colleagues who have played an integral role in shaping the built environment," said Grant Humphreys, Town Founder of Carlton Landing. "It was great to discuss our multi-generational plan for Carlton Landing and to hear new ideas and feedback from the experts participating in the program. The theme of this year's Fall Roundtable was "The Evolution of Place," and we see today how Carlton Landing continues to evolve from its original compelling vision into a real community where people choose to live, work and play."
NTBA President Ward Davis said, "Carlton Landing and Grant Humphreys hosted one of the finest National Town Builders roundtables to date. More importantly, Carlton Landing proves that a completely new town can still be created through thoughtful design, dedicated leadership, and the application of a whole lot of elbow grease. Carlton Landing is a breath of fresh air for people tired of conventional development patters driven by short-term considerations."
The Carlton Landing portion of the program focused on ways to structure real estate sales, create inspiring design that helps residents enjoy richer lives, and explore construction techniques that emphasize high-quality craftsmanship.
"Carlton Landing's success comes from the hard work and passion of the Humphreys family and their friends," said Tom Low, an architect and planner who co-founded Civic by Design in Charlotte, South Carolina. "By combining new ideas with tried-and-tested old ideas, the Humphreys have made Carlton Landing a national model for walkable, green and healthy-living communities."
Participants were treated to Carlton Landing's signature hospitality, including a barbecue dinner prepared by Chef Donny Teel of Buffalo's Barbecue, beer tasting with local breweries, and live bluegrass music.
ABOUT CARLTON LANDING
Carlton Landing is Oklahoma's newest town. Grant and Jen Humphreys, the lakeside community's first residents, founded the community in 2011. The town occupies one of Lake Eufaula's most picturesque areas, with sandy beaches, beautiful woodlands and some of the lake's finest water quality. Famed planner and architect Andreas Duany, known for designing the Rosemary Beach and Seaside communities on the Florida panhandle, crafted the Carlton Landing master plan with Humphreys in 2008. Inspired by the New Urbanism movement—which holds that life, work and play are all central to a community's vitality—Carlton Landing is the first development of its kind to become a distinct municipality. The master plan includes schools, a waterfront chapel, Nature Center, community parks, trails, and a town center with restaurants and shops. Plans call for more than 3,000 homes, a private residence club and a generational development timeline. For more information, visit http://www.carltonlanding.com.
# # #