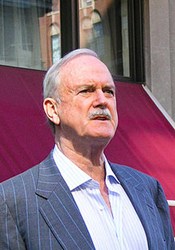 New York, NY (PRWEB) August 11, 2013
First it was the Beatles. Now it's John Cleese. There seems to be something about English speaking foreigners that attracts American buyers and 2013 seems to be the same as 1964. The British are close enough to understand the market but far enough away to see what needs to be done. Cleese has been a star for many years but along the way has created countless John Cleese training videos that are used in corporate training and human recourse offices all over the country. Jim Case Carlton's Training examines how this phenomenon occurred and why 2013 is going the same way.
Meetings Bloody Meetings was a corporate training video that entered offices and caused a huge uproar of laughter. American businessmen and women loved how the Brits could make fun of how wasteful meetings can be and why and how they should be changed. U.S. businesses flocked to use the training video and actually found success and profit by organizing and cutting their long, boring meetings becoming more productive and profitable.
Next came the very necessary appraisal interviewing program the Dreaded Appraisal. Most American businesses didn't have a great program in place for appraisals and how to handle them. They just kind of told the employees where they stank and to fix it. The John Cleese training video the Dreaded Appraisal once again used humor and delighted audiences and was used extensively throughout the U. S. and this time Canada as well.
So why is it that U.S. businesses need an outsider to tell them what ails them. Probably the same reason why Americans purchase the bulk of their health and healing agents from the Asian community. If someone from the outside is explaining what is wrong it seems they know what they're talking about. And it seems in this case it has become quite apparent that they do.
Jim Case Carlton's Training has conducted training for over thirteen years. They represent authors as diverse as Tom Peters and Catherine Crier. Companies large and small use their management training throughout the world. To view some of the programs mentioned such as the John Cleese training videos or to know more about this company, click on their site at Jim Case Carlton's Training.