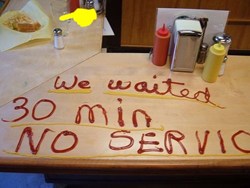 Seattle, WA (PRWEB) August 12, 2013
Johnny was just a nineteen-year-old boy, who was just a bagger at a grocery store. And within months he became a household name in the corporate arena. Now years later he's beseeched by corporate training company Carlton's Training to be part of their new customer service agenda.
In the tough economic atmosphere of 2013, clients are looking for a way to garner more business. Jim Case Carlton's Training announces their new customer service agenda with new standards and practices for clients and the amazing story of Johnny and how his love of people and a simple idea transformed an industry.
Johnny was working as a bagger at a grocery store when he was asked to try to think of one thing he could contribute that would make a difference in his job. He thought about it for days until he thought of what things he himself enjoyed. He loved thoughts of the day and motivational quotes. So he typed up some quotes and thoughts for the day. When he couldn't find one he liked he made them up himself. With his father's help he printed them out, cut them up and brought them to work each and every day. Then while bagging groceries he put the thought of the day in each customer's bags.
The response to Johnny the Bagger was refreshing and beautiful. Lines developed where he was bagging and business went up. The store was thrilled with his performance. Then something special happened. Other departments started finding extra little things they could provide to make the customer want to frequent the store more often.
Soon they documented Johnny's story in a customer service training video titled Johnny the Bagger. It was a huge hit and companies all over the world now use his story and his philosophy to bring excellent service and something special to their organization.
Not since Bob Farrell's Pickle video has something made such a splash in the corporate arena. Johnny's story is beautiful and unique. But should it be? Isn't there something a company could do for the public everyday that could create a thrill for them that would get everyone talking about that company?
Jim Case Carlton's Training loves what Johnny's story has done in the corporate world for their training. His story is even more touching knowing that it came right from his heart. To view the Johnny the Bagger video or learn more about this company, click on their site at Jim Case Carlton's Training.