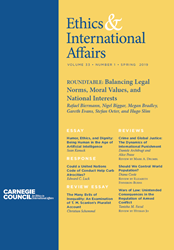 'Ethics & International Affairs' aims to help close the gap between theory and practice by publishing original articles, essays, and book reviews that integrate rigorous thinking about principles of justice and morality into discussions of practical dilemmas.
NEW YORK (PRWEB) March 12, 2019
Carnegie Council presents the Spring 2019 issue of its quarterly journal, "Ethics & International Affairs."
This issue features a roundtable organized by Rafael Biermann examining how states and other actors balance legal norms, moral values, and national interests in various policy areas. The collection contains contributions from Rafael Biermann, Nigel Biggar, Megan Bradley,Gareth Evans, Stefan Oeter, and Hugo Slim. The issue also contains an essay by Sean Kanuck on being human in an age of artificial intelligence; a response by Edward C. Luck to Bolarinwa Adediran's article on UN Security Council codes of conduct (EIA 32.4); a review essay by Christian Schemmel taking a philosophical look at inequalities; and book reviews by Mark Drumbl, Elizabeth Finneron-Burns, and Hyeran Jo.
To access the issue, go to https://www.ethicsandinternationalaffairs.org/2019/spring-2019-issue-33-1/.
ESSAY
Humor, Ethics, and Dignity: Being Human in the Age of Artificial Intelligence
Sean Kanuck
ROUNDTABLE: BALANCING LEGAL NORMS, MORAL VALUES, AND NATIONAL INTERESTS
Introduction
Gareth Evans
A Christian View of Humanitarian Intervention
Nigel Biggar
Secessionist Conflict: A Happy Marriage between Norms and Interests?
Rafael Biermann
Unresolved and Unresolvable? Tensions in the Refugee Regime
Megan Bradley
Conflicting Norms, Values, and Interests: A Perspective from Legal Academia
Stefan Oeter
Humanitarian Diplomacy: The ICRC's Neutral and Impartial Advocacy in Armed Conflicts
Hugo Slim
RESPONSE
Could a United Nations Code of Conduct Help Curb Atrocities? A Response to Bolarinwa Adediran
Edward C. Luck
REVIEW ESSAY
The Many Evils of Inequality: An Examination of T. M. Scanlon's Pluralist Account
Christian Schemmel
REVIEWS
Crime and Global Justice: The Dynamics of International Punishment
Daniele Archibugi and Alice Pease
Review by Mark A. Drumbl
Should We Control World Population?
Diana Coole
Review by Elizabeth Finneron-Burns
Wars of Law: Unintended Consequences in the Regulation of Armed Conflict
Tanisha M. Fazal
Review by Hyeran Jo
Briefly Noted
ABOUT CARNEGIE COUNCIL
Founded by Andrew Carnegie in 1914, Carnegie Council for Ethics in International Affairs is an educational, nonprofit, nonpartisan organization that produces lectures, publications, and multimedia materials on the ethical challenges of living in a globalized world. Go to https://www.carnegiecouncil.org/.