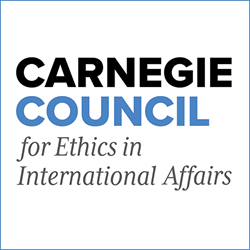 Carnegie Council is one of the world's top creators of nonpartisan educational resources on international ethics used by professionals, journalists, educators, students, and the greater public.
NEW YORK (PRWEB) May 29, 2019
Carnegie Council for Ethics in International Affairs announces its June 2019 current affairs programs in New York City.
To attend in person, please RSVP. Go to the online calendar: https://www.carnegiecouncil.org/calendar.
Press passes and student tickets are available. Please contact events@cceia.org.
Unless otherwise noted, events take place at:
Carnegie Council
170 East 64 Street, New York, NY 10065.
Watch them as live webcasts here: https://www.carnegiecouncil.org/live.
Videos, transcripts, and audios are available online soon after events take place.
JUNE EVENTS
Mon June 03, 6:00-8:00 PM ET
China's Belt and Road Initiative: Implications for Development Finance and Sustainable Investing
Joshua Eisenman, University of Texas at Austin
This event will take place at 45 E 53rd St, New York, NY.
Wed June 05, 8:00-9:15 AM ET
The American Public and U.S. Global Engagement: Mid-2019 Snapshot
Ali Wyne, RAND Corporation
Thurs June 06, 8:00-9:15 AM ET
Speech Police: The Global Struggle to Govern the Internet
David Kaye, University of California, Irvine
Tues June 18, 6:00-7:30 PM
Ill Winds: Saving Democracy from Russian Rage, Chinese Ambition, and American Complacency
Larry Diamond, Stanford University
Mon June 24, 6:00-7:30 PM
Eyes in the Sky: The Secret Rise of Gorgon Stare and How It Will Watch Us All
Arthur Holland Michel, Center for the Drone, Bard College
ABOUT CARNEGIE COUNCIL
Founded by Andrew Carnegie in 1914, Carnegie Council for Ethics in International Affairs is an educational, nonprofit, nonpartisan organization that produces lectures, publications, and multimedia materials on the ethical challenges of living in a globalized world. Go to https://www.carnegiecouncil.org/.