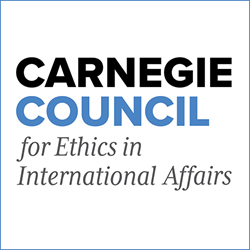 Carnegie Council is one of the world's top creators of nonpartisan educational resources on international ethics used by professionals, journalists, educators, students, and the greater public.
NEW YORK (PRWEB) February 28, 2019
Carnegie Council for Ethics in International Affairs announces its March 2019 current affairs programs in New York City.
To attend in person, please RSVP. Go to the online calendar: https://www.carnegiecouncil.org/calendar/upcoming.
Press passes and student tickets are available. Please contact events(at)cceia(dot)org.
Events take place at:
Carnegie Council
170 East 64 Street, New York, NY 10065.
Watch them as live webcasts here: https://www.carnegiecouncil.org/live.
Videos, transcripts, and audios are available online soon after events take place.
MARCH EVENTS
March 13, 6:00-7:30 PM EST
The New Rules of War: Victory in the Age of Durable Disorder
Sean McFate, professor of strategy, National Defense University and Georgetown University's School of Foreign Service
March 26, 8:00- 9:15 AM EST
How Safe Are We? Homeland Security Since 9/11
Janet Napolitano, secretary of Homeland Security 2009-2013. Formerly governor of Arizona, currently president of the University of California.
ABOUT CARNEGIE COUNCIL
Founded by Andrew Carnegie in 1914, Carnegie Council for Ethics in International Affairs is an educational, nonprofit, nonpartisan organization that produces lectures, publications, and multimedia materials on the ethical challenges of living in a globalized world. Visit https://www.carnegiecouncil.org/.