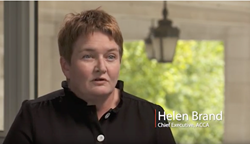 "We are so excited to bring 'Ethics in Business' to a new audience," says Carnegie Council's Deborah Carroll, executive producer of the series. "Our hope is that it will help viewers to think critically about ethical issues and the evolving role of corporations in today's world."
NEW YORK (PRWEB) September 04, 2019
In collaboration with the ACCA (Association for Chartered Certified Accountants) and CFA Institute, Carnegie Council will take its "Ethics in Business: In Their Own Words" online video series to broadcast television for six half-hour shows, airing on CUNY TV in the New York metro area in 2019-2020 with the premiere episode on Tuesday, September 10.
Launched to celebrate Global Ethics Day in October 2018, "Ethics in Business" features global business leaders exploring how their organizations and industries are preparing for an ethical future in the face of challenges presented by globalization, technology, and human psychology. Helen Brand, chief executive at ACCA, and Paul Smith, outgoing CEO at CFA Institute, are among the business leaders who participated.
Between October 2018 and August 2019, eight interviews were produced and posted to Carnegie Council's YouTube channel and distributed throughout ACCA's and CFA Institute's professional networks. They are all hosted by Magalie Laguerre-Wilkinson, a producer and reporter at CUNY TV and associate producer at 60 Minutes.
The schedule for "Ethics in Business" on CUNY TV is as follows, with the premiere date listed for each episode:
Tuesday, September 10, 10pm - Ethics in Business with Paul Smith, CFA Institute CEO (outgoing)
Tuesday, October 8, 10pm - Ethics in Business with Helen Brand, ACCA Chief Executive, and Kevin Dancey, IFAC CEO
Tuesday, November 12, 10pm - Ethics in Business with David Wu, Deloitte China Vice Chairman
Tuesday, December 10, 10pm - Ethics in Business with Jennifer Tan, AlipayHK CEO, and David MacLennan, Cargill Chairman and CEO
Tuesday, January 13, 10pm - Ethics in Business with Hiro Mizuno, GPIF Executive Managing Director and CIO
Tuesday, February 10, 10pm - Ethics in Business with Emilio Gonzalez, Pendal Group CEO
In addition to the premiere times – the second Tuesday of the month at 10pm – "Ethics in Business" will air on the second and fourth Wednesday of the month at 10am and 3pm and the second and fourth Saturday of the month at 4:30pm, all between September 2019 and February 2020. Additionally, it will also air on the fourth Tuesday of the month at 10pm.
"We are so excited to bring 'Ethics in Business' to a new audience," says Carnegie Council's Deborah Carroll, executive producer of the series. "We spoke with leaders in the accounting industry, financial management, and commerce and filmed in London, Hong Kong, Tokyo, Sydney, and at our offices in New York City. There are so many lessons for business leaders and the general public in this series. Our hope is that it will help viewers to think critically about ethical issues and the evolving role of corporations in today's world."
CUNY TV reaches 7.3 million broadcast households in the New York metro area.
Carnegie Council previously produced "Global Ethics Forum," which aired on CUNY TV and MhZ Networks for nine seasons between 2010 and 2018. This show featured policymakers, academics, and thought leaders speaking about ethical issues in town hall, lecture, and interview formats.
To see the "Ethics in Business" online series and the "Global Ethics Forum" archive, you can go to Carnegie Council's YouTube page at http://www.youtube.com/carnegiecouncil.
ABOUT CARNEGIE COUNCIL
Founded by Andrew Carnegie in 1914, Carnegie Council for Ethics in International Affairs is a forum for the world's leading thinkers, experts, and decision makers. Through lectures, workshops, panel discussions, conferences, interviews, articles, and a wealth of free multimedia online resources, the Council has earned a reputation as an honest, objective voice for ethics in international affairs. Go to http://www.carnegiecouncil.org.
ABOUT ACCA
ACCA (the Association of Chartered Certified Accountants) is the global body for professional accountants, offering business-relevant, first-choice qualifications to people of application, ability and ambition around the world who seek a rewarding career in accountancy, finance and management.
ACCA supports its 208,000 members and 503,000 students in 179 countries, helping them to develop successful careers in accounting and business, with the skills required by employers. ACCA works through a network of 104 offices and centers and more than 7,300 Approved Employers worldwide, who provide high standards of employee learning and development. Through its public interest remit, ACCA promotes appropriate regulation of accounting and conducts relevant research to ensure accountancy continues to grow in reputation and influence.
ACCA is currently introducing major innovations to its flagship qualification to ensure its members and future members continue to be the most valued, up to date, and sought-after accountancy professionals globally.
Founded in 1904, ACCA has consistently held unique core values: opportunity, diversity, innovation, integrity, and accountability. More information is here: http://www.accaglobal.com.
ABOUT CFA
CFA Institute is the global association of investment professionals that sets the standard for professional excellence and credentials. The organization is a champion for ethical behavior in investment markets and a respected source of knowledge in the global financial community. The end goal: to create an environment where investors' interests come first, markets function at their best, and economies grow. CFA Institute has more than 155,000 members in 165 countries and territories, including 150,000 CFA® charterholders, and 151 member societies. For more information, visit http://www.cfainstitute.org.
ABOUT CUNY TV
The City University of New York's television station, CUNY TV, has been educating and informing viewers for more than three decades. Established in 1985, the station has steadily increased its ambition and scope, in 2009 transitioning to high definition and adding over-the-air broadcasting to its existing cable distribution. Now reaching 7.3 million broadcast households in the New York metro area, CUNY TV is committed to extending the academic mission of the university to offer lifelong learning opportunities to all New Yorkers. For more information, go to https://tv.cuny.edu/.