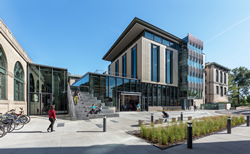 "The combination of the PRIMER STX 100 bonding agent and LEVELINE 15 self-leveling underlayment provided an optimal solution – and also helped keep the project timeline intact and on budget."
EAST SETAUKET, N.Y. (PRWEB) May 18, 2021
The ceremonial October 2020 opening of the Ansys Hall at Carnegie Mellon University – College of Engineering in Pittsburgh, Pennsylvania unveiled an innovative educational facility that combines classroom and factory. Penetron Specialty Products provided a flooring solution that included a flooring underlayment (LEVELINE 15) and a sealer (PENESEAL FH).
Ansys, an American simulation software company, and Carnegie Mellon University have cooperated on a wholly new teaching facility where students, faculty, and collaborators innovate and interact with cutting-edge simulation and fabrication tools. The range of potential applications is diverse, ranging from autonomous vehicles to additive manufacturing, biomedical devices, sustainability of physical products, and more.
"Ansys simulation software gives engineers and students the ability to explore and predict how products will work — or won't work — in real world applications," explains Bob Baumeister, PSP Product Specialist. "Students can now rapidly transform their ideas from digital concepts to physical prototypes in the same facility."
Keeping on Schedule
The 36,000 square foot building features high glass bay walls with a garage door opening, and open learning spaces connected by a spacious mezzanine walkway. Resources include a design studio, engineering education labs, fabrication tools and workshops, a computer cluster, and multiple collaboration spaces with bright, natural light.
Preparation of approximately 5,000 ft2 of floorspace was carried out by Mosites Construction, a PSP-certified approved applicator. As a first step, PRIMER STX 100, a bonding agent, was used to prepare the floors for a subsequent layer of LEVELINE 15, a self-leveling underlayment, to provide a level and flat surface. PENESEAL FH, a clear, reactive penetrating sealer, was then applied to protect the LEVELINE 15 layer from other trades that were still working during the final construction phase – as the final flooring was not installed over the newly-poured LEVELINE 15 until that phase of construction was completed. The final flooring comprised various finishes: carpet, wooden flooring, and vinyl composition tile.
Optimal Solution for Interior Applications
LEVELINE 15 is a calcium aluminate-based self-leveling underlayment for a wide range of flooring applications. Its long working time, low shrinkage and superior leveling properties make it ideal for demanding interior applications.
"The Ansys project consisted of leveling hallways, elevator landings, classrooms, and conference meeting rooms," adds Bob Baumeister. "The combination of the PRIMER STX 100 bonding agent and LEVELINE 15 self-leveling underlayment provided an optimal solution – and also helped keep the project timeline intact and on budget."
The Penetron Group is a leading manufacturer of specialty construction products for concrete waterproofing, concrete repairs, and floor preparation systems. The Group operates through a global network, offering support to the design and construction community through its regional offices, representatives, and distribution channels.
For more information on Penetron waterproofing solutions, please visit penetron(dot)com or Facebook(dot)com/ThePenetronGroup, email CRDept(at)penetron(dot)com, or contact the Corporate Relations Department at 631-941-9700.