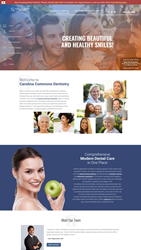 We are honored to be recognized with this award, as our team is dedicated to providing a positive and rewarding experience for each patient, says Dr. Kavi Sagunarthy
INDIAN LAND, S.C. (PRWEB) March 30, 2021
Find Local Doctors recently honored Carolina Commons Dentistry as a 2021 Top Patient Rated Indian Land Dentist. This well-respected practice has been selected as a Top Patient Rated Dentist as a result of having superior ratings and reviews from patients. Find Local Doctors is a trusted online directory that helps consumers easily locate qualified and reputable physicians and dentists in their area. Carolina Commons Dentistry is among an elite group of dental practices receiving a high volume of five-star ratings from reputable online sources.
Carolina Commons Dentistry is located at 6257 Carolina Commons Drive, Suite 100, in Indian Land, South Carolina. Led by Dr. Kavi Sagunarthy, an experienced and reputable family dentist, the practice meets the dental care needs of the entire family with services ranging from preventative and general dentistry to restorative, cosmetic and implant dentistry. Dr. Sagunarthy is known for his elite skill set and success as a cosmetic and restorative dentist. Patients of all ages can take advantage of treatments ranging from routine cleanings and chipped tooth repair to porcelain veneers, dental implants and much more. Carolina Commons Dentistry offers relaxing amenities such as complimentary beverages and satellite televisions. They also provide same-day dentistry and sedation options for painless procedures. The clinic is equipped with state-of-the-art dental technology at every turn. Beyond paperless charts and a fast digital check-in process, Carolina Commons Dentistry also uses advanced low-radiation dental imaging and other cutting-edge equipment to minimize discomfort and improve accuracy during procedures.
"We are honored to be recognized with this award, as our team is dedicated to providing a positive and rewarding experience for each patient," says Dr. Kavi Sagunarthy
More about Kavi Sagunarthy, DDS:
Dr. Sagunarthy graduated from George Washington University in Washington, D.C, before receiving his doctorate in dental surgery from the University of Buffalo School of Dental Medicine in Buffalo, New York. Dr. Sagunarthy went on to complete his general practice residency at the Montefiore Medical Center in New York. He is a fellow of the Academy of General Dentistry, a member of the American Dental Association and holds faculty credentials at the MUSC Advanced Education in General Dentistry Residency Program.
Carolina Commons Dentistry's mission is to deliver modern, cutting-edge dental treatments in a comfortable, patient-centered environment. To learn more about Carolina Commons Dentistry or to schedule an appointment, please visit http://www.carolinacommonsdentistry.com or call (803) 306-7949.