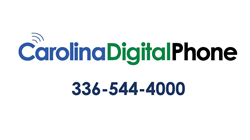 We are thrilled once again to donate our expertise, equipment and services as part of the annual Makeover.
GREENSBORO, N.C. (PRWEB) March 04, 2020
Carolina Digital Phone, a leading hosted VoIP and telecommunications firm based in North Carolina that serves businesses, government agencies, non-profit organizations, and academic institutions nationwide, is once again participating in the annual Extreme Nonprofit Makeover program.
Now in its 16th year, the Extreme Nonprofit Makeover program provides a 501(c)(3) nonprofit that serves people in Guilford County with a complete technology makeover for free, so they can carry out more community-focused work to help residents live better lives. The program was pioneered by TechTriad, a leading web development firm for businesses and nonprofits in Guilford County,
The 2020 recipient of the Extreme Nonprofit Makeover is Gate City Legal Services, which was founded on the idea that every person deserves the right to an attorney. They strive to close the Justice Gap by providing quality legal services at reduced rates to those with low-to-modest income.
"Gate City Legal Services, Inc. is very grateful to be the recipient of the 2020 Extreme Nonprofit Makeover," said Sharon E. Dunmore, Esq., CEO. "With this tremendous amount of support, GCLS will be able to better serve our targeted demographic of individuals and families requiring legal services with low to modest income by expanding the knowledge of our services as well as improving our efficiency capabilities for every case."
Ten businesses are teaming up with TechTriad to implement the Makeover: Carolina Digital Phone providing cloud telephone solutions (Nicky Smith, CEO), Solace IT Solutions (Chris Oakman, CEO), Magnetic Ideas (Jeff San George), Why People Click (Rob Ainbinder), Computer Repair of Greensboro (Phillip Bishop), A Great Idea (Shane Lukas), Gefen Productions (Ellen Gefen), Haystack CRM (Jennifer Davis), Sam Moore and Altina Layman (fundraising specialist). Together, they enable the Makeover with their generous donations of talented people and powerful solutions.
"I've not only built a successful business in Greensboro, I've raised my kids and planted my roots here," said Dr. Sue Polinsky, President of TechTriad. "The Makeover is our community give-back to help nonprofits that do selfless work under trying technological conditions and help people who live in the place I call home. Working with businesses who want to do something good for the people in Greensboro – is the best reward."
"We are thrilled once again to donate our expertise, equipment and services as part of the annual Makeover," said Nicky Smith, CEO of Carolina Digital Phone. "Giving back to the community has always been a top priority for us, and we applaud Sue, the other great businesses involved in this year's Makeover, and Gale City Legal Services for their commitment to making a positive difference."
About Carolina Digital Phone
Carolina Digital Phone is a pioneer of hosted phone services, and provides products that improve the capabilities of business, education and government telephony, while reducing their overall cost and delivering local customer service. The company's offerings stand out for their excellent value, including very competitive pricing, the industry's deepest feature set, ease of deployment, and many user-friendly packages – from a full turnkey set-up including dial tone and VoIP phones to automated call answering and routing solutions that work with existing landlines, smartphones or digital phone devices. Learn more at https://carolinadigitalphone.com.
About the Extreme Nonprofit Makeover
The Extreme Nonprofit Makeover is an annual TechTriad project that provides a local nonprofit member of the Guilford Nonprofit Consortium, with a technology makeover. Started by TechTriad in 2005 with a new website for a local nonprofit, the project has grown to include six companies who provide their talents free of charge. The Extreme Nonprofit Makeover is funded by a grant from The Cemala Foundation and occasional grants from other foundations and institutions. There is no charge to the annual recipient. Local 501(c)(3) nonprofits who are members of the Guilford Nonprofit Consortium are eligible and the focus of their work must be local. Learn more at http://techtriad.com/extreme-nonprofit-makeover.